Satyagrah: an(ap)shan(ap) tales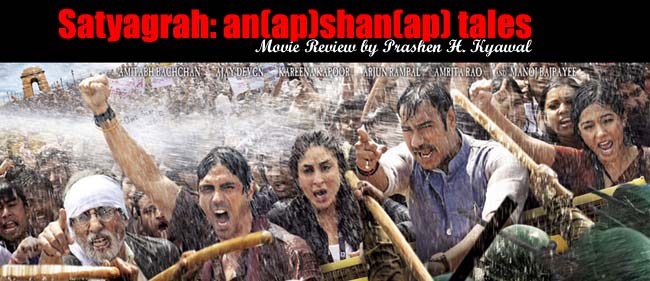 Cast: Amitabh Bachchan, Ajay Devgn, Kareena Kapoor Khan, Arjun Rampal, Manoj Bajpayee, Amrita Rao, Indraneil Sengupta
Director: Prakash Jha
Satyendra Dubey! Most may have forgotten this name but many others will never forget it. Satyendra Dubey was a project director at the National Highways Authority of India. He was murdered in Gaya, Bihar after fighting corruption in the Golden Quadrilateral highway construction project. For every Indian who cares for news about injustice, his murder left a deep scar inside their heart. This and many such events including day to day fight with corruption, Kejariwal's silent movement through yahoo groups regarding RTI, candle light marches for Jessica Laal case with effect of Rang De Basanti on the young generation, culminated in unbelievable support for Anna's Anti Corruption Movement in and around August 2011. Through Anna, Kejariwal, Kiran Bedi and team, people vented out grievances saturated inside since decades.
It was obvious that Prakash Jha who is known to take inspiration from major social issues, will use this subject to create a movie. After the stupendous success of Gangajal, Prakash Jha has developed sort of a formula for his films. A formula which is evident in films like Apaharan, Arakshan, Raajniti, Chakravyuv. But did he give justice to the subject at hand in Satyagraha?
Story of this movie is set in a fictional town called Ambikapur. Amitabh Bachhan plays role of Dwaraka Anand aka Daduji, a well respected teacher who lives life on his own principals with his son and daughter-in-law. Ajay Devgan plays role of Manav Raghavendra, who is a friend of his son. He is often criticized by Daduji for having materialistic ambitions and dirty business tactics. Daduji's son gets killed in a road accident (inspiration from Satyandra Dubey case?). Then due to some turn of events, Daduji is arrested and jailed for 7 days for slapping the collector of the district. Manav gets back to town to get Daduji out of jail which eventually becomes a big movement. How that happens and what happens next is the film all about.
Story and screenplay written by Prakash Jha and Arjun Rrajabali fails in taking real life events and turning them into gripping drama on celluloid. The film fails flat from start and never lifts up. Infact post interval, it dwindles down rapidly and never gets up. Barring 2-3 scenes, audience does not connect with the story and its characters. The characters are not crafted well and things happen haphazardly.
Since the foundation is weak, Prakash Jha, as a Director also fails to create a strong structure on it. The movie is stale, drab and uninspiring. He could never achieve the magic he had created in Gangajal. Even Rajniti too fall flat post interval. He is taking his audience for granted. Prakash Jha must get his act together or soon he will be in dark corners like RGV.
Performance wise except Manoj Bajpayee (Balram Singh, the minister) and the woman who pleads Daduji to eat roti, everyone else is strictly ok. Ajay Devgan sleepwalks through the role. Kareena Kapoor (Yasmin, the journalist) looks out of place. Arjun Rampal (Arjun, a local leader) looks foolish in some scenes while he garden walks on the dais. His character has no background and detailing.
Cinematography by Sachin Krishn is passable. Background Music by Salim-Suleiman is ok. Songs by Indian Ocean, Anjjan Meet and Adesh Shrivastava is forgettable. Production quality is as per budget.
With such promising start cast, powerful production house and such interesting subject, Prakash Jha fails to create a movie which can entertain and motivate audience. I think he wanted to show what can happen if such movements are handled immaturely without strong fundamentals of non-violence. However, the message could not reach effectively. And thank God in reality, the people at the helm were mature enough and nothing anarchistic happened.
In short, the story of Anna's real life movement (in August 2011) was much much interesting with unpredictable twists and turns than Jha's failed reel life attempt.
Recommendation: Watch only if you can not miss a Prakash Jha movie. Even then you can wait for its TV premier. Others can spend their time in some other entertainment activities.