(Special on the Martyr's day of Shri Guru Teg Bahadar on 08th December 2021, Wednesday)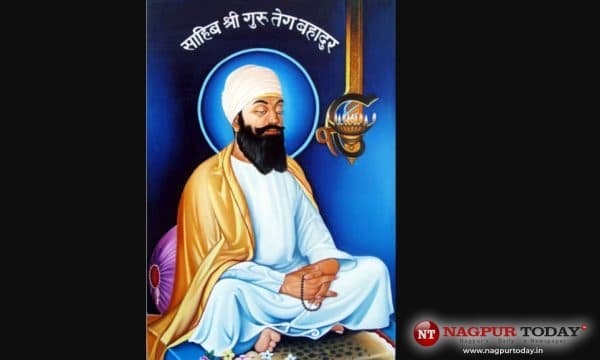 Propagating the message of Satvyavhaar (Good conduct) and Satnaam (Chanting the name of God), Shri Guru Teg Bahadar Sahib reached Dhamdhaam village. Guruji's mother Nanki (wife of the sixth Guru of Sikhism, Shri Guru Hargobind Sahib Ji), Guruji's wife Gujri and other disciples also stayed there with Guruji. Influenced by Guruji, devotees started coming from distant places, and Langar was served among them. In that village, a devotee called Meehaan Bhagat performed his service with utmost devotion.
The water source was far away from Guruji's place of stay. He used to get the water from there in a container placed on his head. While doing this, he also uttered 'Satnaam Waaheguru', because he very well understood, "Sant Ka Sang Vadbhaagi Paaiyai. Sant Ki Seva Naam Dhiyaaiyai." Whatever eatable was available, he used to consume it without any hesitation.
He used to bring the container filled with water to the place of Guruji's stay, take another empty container from there, and leave again for filling it up. In this way, he used to do this service all day and night, as he considered it to be his only motive. Repeatedly carrying the container on his head caused bruising on the head, and the wound intensified with time, but he did not stop his service. He continued to bring water for Langar, devotees' bath, bathing the animals of Guru Ghar and other purposes. As days passed, his wounds got infected. But he tolerated all this, didn't tell anyone and continued his service.
He used to keep a piece of cloth below the container. Once, he removed the cloth to clean it, as a result of which a few insects which were there on the wound fell down. Kind hearted Bhai Meehaan thought that those fallen insects would die if they came under someone's feet, and remain hungry if they didn't get food. So, he placed them on his head again. Mata Nanki saw all this and said, "Oh Meehaan! You have performed a lot of service for Guru Ghar. You didn't even worry about the insects." To this, Bhai Meehaan said that he didn't care about his health; he only wanted that his service should be accepted in Guru Ghar. Mata Nanki said that Satguru would bless him. "Satguru Hoi Daiaalu Ta Sardhaa Pooriai."
After this too, Bhai Meehaan continued his service with the same devotion. The next day, Shri Guru Teg Bahadar Ji was seated along with Mata Nanki, when Bhagat Meehaan was bringing water. Mataji narrated to Guruji what happened the previous day and then added, "Oh Teg Bahadar! Meehaan has very devotedly performed his service." Omniscient Guruji asked him to remove the cloth on his head and cured all the wounds on his head by his blessed vision.
Guruji said, "Oh Meehaan! Your services are accepted." Saying this, Guruji made him the Mahant (Chief Preacher), and said that all those insects would be his disciples. With Guruji's blessings, Bhai Meehaan attained all the required knowledge. "Khin Mahi Neech Keet Kau Raaj. Paarbraham Gareeb Niwaaj." All the pains of Bhai Meehaan vanished and his wishes were fulfilled. Even Gurbani states, "Satigur Ki Seva Safal Hai Je Ko Kare Chit Laai. Man Chindia Fal Paavana Haumai Vichahu Jaai." (Shri Guru Granth Sahib, Pg. 644), meaning that performing Guru's service with devotion enables everybody to get the desired benefits and cleans their minds.
Shri Guru Teg Bahadar Ji always blessed his devotees by fulfilling their desires. He sacrificed his life for the sake of humanity on 19th December 1675 (Saaka Maghar Sudi 5 Samvat 1732), the equivalent date of which this year is 08th December 2021, Wednesday, Lakhs of salutes to such a great soul on his Martyr's day!
By Adv. Madhavdas Mamtani
Shri kalgidhar satsang mandal, Jaripatka, Nagpur-14