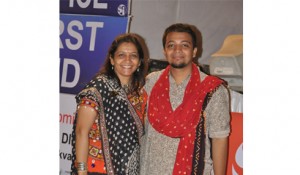 Nagpur news: On the Third day of Navratari, Dhamal Dandiya remains on fire at Sankalp. The crowd was huge all busy dancing to the beats. The vast sprawling area of this year's venue not only accommodated the swelling crowds of participants and onlookers, it also provided ample space of parking and food stalls. Not to mention the psychedelic lighting, foot tapping music and the mellifluous voice of the singers. Top of the line security be matched by strict adherence to certain rules of conduct. The participants  experienced a natural high by playing Garba to their heart's content to the pulse racing beats of music, melodious numbers belted by the singers, the riot of colours and beautiful, smiling, happy faces all around.
Vipin M. Kamdar is the Chairman of Sankalp. The directors are Ashok A. Bakhai, Atul P. Dathia, Bharat K. Batavia, Chandresh S. Badani, Chunila M. Shah, Dhiraj B. Shah, Hastimal M. Kataria, Jay T. Doshi, Minesh N. Mehta, Nitin P. Khara, Praful B. Doshi, Raju N. Kamdar, Vinod J. Shah, Vipin V. Vakharia, Vipul J. Kothari, Viral H. Kothari all showed their presence.
Towards the end it was a fusion of traditional and western cloths. All friends enjoyed their time together. Some danced in the main circle while some formed their own groups. Irrespective, their motive was to be entertained and have fun. Sankalp fulfilled that aim to the core by the amazing music and a wonderful environment.
Ankita Agrawal & Sahil Channe (citizen journalist)