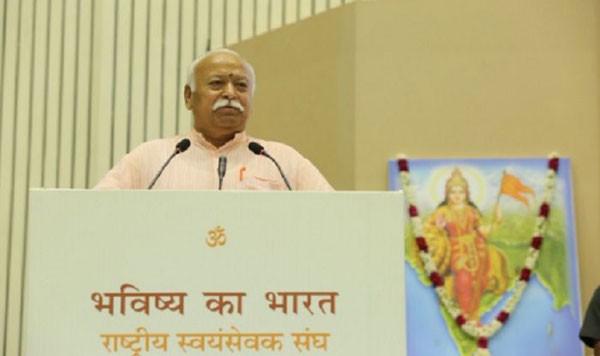 New Delhi: Rashtriya Swayamsevak Sangh (RSS) chief Mohan Bhagwat on Tuesday clarified that they do not have any influence on government policies. "When they need advice, they ask us. If we are able to give any suggestion to them, we give, but we do not have any influence on their politics and government policies. They are capable enough in their work field.(Unko (BJP govt) salah chaiye toh vo puchte hain, agar hum de sakte hain toh hum dete hain. Par unki rajneeti par hamara koi prabhav nahi hai, sarkar ki neetiyon par hamara koi prabhav nahi hai. Vo samarth hain apne karyashetra mein),"Bhagwat said, while speaking on the second day of his three-day lecture series at Delhi's Vigyan Bhavan.
He further said there is a perception that the RSS plays a key role in the functioning of a particular party, a reference to the BJP, because of the presence of many of its workers in that organisation, but it is wrong. "We never ask swayamsevak (volunteer) to work for a particular party, we do ask them to back those working in national interest. RSS keeps away from politics but has views on issues of national interest," Bhagwat said, adding,"RSS respects diversity and believes in the philosophy of "walk on your own path".
Earlier on Monday, on the first day of the three-day conclave "Bhavishya Ka Bharat — An RSS Perspective", Bhagwat had said that the Rashtriya Swayamsevak Sangh (RSS) does not seek domination and is indifferent to who comes to power. Notably, Bhagwat launched an unprecedented outreach in a bid to allay apprehensions about its ideology on Monday and had asserted that RSS is "most democratic" and not dictatorial.