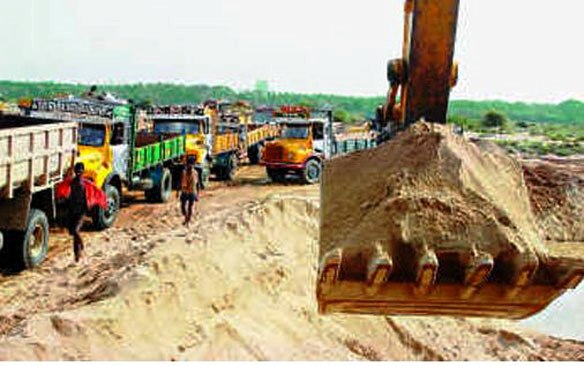 Nagpur News: After five months of constant delaying, the Nagpur District Administration finally seems to be moving ahead with the online tender and auction process for sand beds spread across the district from December 25. However, the administration may miss out on the expected revenue this year. As it did not receive no-objection certificate from the environment department in time, the process took too long to pick up.
Perhaps this is for the first time, the sand blocks allocation process is delayed beyond limit. In normal course, the sand blocks are usually given off by August every year but the delay in environment clearance put the entire process on backburner limiting the revenue prospects to nearly nothing. Meanwhile, tons of sand has already been quarried by the illegal operators causing tremendous loss of royalty to the government.
Now the district administration is contemplating to take off the process after the winter session of state assembly beginning December 10. The prominent sand blocks in the district include those near Waki, Palora, Bina and Sawli.
According to the mining department sources at district collector's office, the concerned contractors would have to acquire the sand blocks through online tender and auctioning process in which 62 large and medium sized sand blocks would be let out. Since five months have already gone, the contractors would be having less time for mining. The contractors are usually accorded with the time frame of 7 months for mining purpose as the seasonal cycle allows the sand deposit to remain only up to certain period. Under the current scenario, the number of entries for auction is expected to be remarkably less. While the sand mafia has its eye on larger stretches, the smaller patches may find no taker.
Last year the district administration received highest revenue till date from the auction process under the leadership of the then district collector Praveen Darade. Going by the last year's result, the administration was hoping to yield more this year but the delay in the process badly affected its prospects of garnering enthusiastic revenue.
Sources added that the technical hurdle in the department proved to be a merry time for illegal sand lifters who quarried the major sand deposits without paying the royalty. They further supplied it in the upmarket at much higher price. This caused royalty loss to the tune of lakhs of rupees on the part of administration. However when the administration woke up to the prevailing activities and laid action, the illegal operators took to the beds of Bhandara and neighbouring state of Madhya Pradesh to maintain their supply chain in Nagpur district. This has only added to its cost which the buyers are bearing.