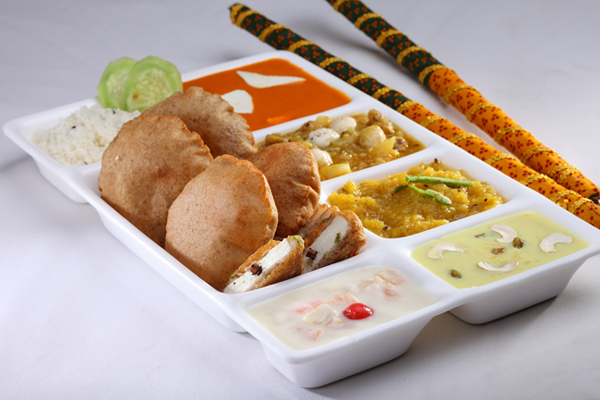 The Navratri (nine nights) festival which marks the onset of autumn is celebrated in different ways all over the country. It is a festival of worship, dance and music and is celebrated from the first to ninth date of Ashwin Shukla Paksha of the Hindu Calendar for the worship of Goddess Durga. North Indians celebrate the 9 days of Navratri watching the annual Ramlila performances under the post-monsoon skies full of twinkling stars. For 9 days, women wear their best saris and beautiful jewellery, and attend late night cultural programmes of music and dance. Coconut laddoos, payash, bundi sweets are typical Navratra food preparations. Navratri 2012 will be celebrated from October 16 to 24 October.
NAVRATRI VRAT RECEIPES
KUTTU KI PURI RECIPE
Here's a simple, tasty puri recipe especially for alu lovers and for those who fast in navratra. Learn how to make kuttu ki puri.
Ingredients:
2 cup kuttu ka atta
4 potato (alu)
1/2 tsp salt (namak)
1/2 tsp black pepper powder (kali mirch)
clarified butter (ghee) for frying
How to make kuttu ki puri:
Boil and mash potato.
Now mix salt, atta, kali mirch and alu and knead into dough.
Make small balls of the dough and roll each into small puris.
Heat ghee in a pan.
Fry each puri in ghee.
When cooked on one side turn it and cook on the other side also until it turns light brown.
Serve them hot.
---
KADDU KA RAITA RECIPE
Here's a delicious curd recipe with kaddu (pumpkin). Learn how to make kashiphal ka raita.
Ingredients:
1/2 cup pumpkin (kashiphal)
2 cup curd (dahi)
1/4 tsp salt (namak)
1/4 tsp rock salt (kala namak)
1/2 tsp mustard (raai) powder
1/2 tsp cumin powder (jeera)
How to make kaddu ka raita:
Grate kashiphal (kaddu) and boil in 1/4 cup water at low flame.
When water dries remove it from the gas and let it cool.
Beat curd and mix all the ingredients along with kaddu (pumpkin).
Serve it chilled.
---
SINGHADE KA HALWA RECIPE
Here's a tasty singhade (kuttu ka halwa) sweet dish and is best for those who are fasting. Learn how to make singhade ka halwa.
Ingredients:
500 gm hare singhade (fresh water caltrop)
125 gm sugar
100 gm thickened milk (mawa)
1 tbsp clarified butter (ghee)
1 cup milk (doodh)
1/4 tsp cardamom powder (elaichi)
5-6 cashew nut (kaju)
5-6 almond (badam)
few drops of yellow colour (peela rang)
How to make kuttu ka halwa:
Peel singhade and grate them.
Fry singhade in a pan with ghee.
Grate thickened milk and add to the above until it becomes light brown.
Boil milk, sugar and 1 cup milk in a container.
Add thickened milk and stir continuously until it thickens.
Then add 2-3 drops of colour and remove it from the flame.
Garnish with cardamom powder and finely chopped almond and cashew nuts and serve hot.
---
KELE KI BARFI RECIPE
Here's a tasty, nutritious recipe of a sweet dish with banana and coconut. Learn how to make kele ki barfi.
Ingredients:
4 large ripe banana (pake kele)
11/2 cup milk (doodh)
2 cup sugar
2 tblsp clarified butter (ghee)
75 gm coconut (nariyal)
1/2 cup crushed walnut (akhrot)
How to make kaddu ka raita:
Peel banana and mash them.
Now cook mashed banana along with milk in a pan until milk dries up.
Now add butter and stir continuously till it turns brown in colour.
Now add sugar, grated coconut and walnut and stir.
Remove it from the flame. Grease a plate with butter and spread the mixture in the plate.
Its thickness should be 1/2. When it settles to be cut in pieces, cut barfi in desired shape.
Garnish with dry fruits and serve.
---
SINGHARE KE PAKORE RECIPE
Ingredients:
mango powder
1/2 cup chestnut flour
10-12 small squares of pumpkin
oil for frying
2 potatoes, cut into thin round slices
11/2 tsp salt
How to make kaddu ka raita:
Mix the flour and salt.
Then slowly mix in water to make a smooth paste.
Dip the slices of potatoes and pumpkin in this paste, one by one.
Heat up oil in a deep frying pan.
Deep fry the potatoe and pumpkin slices in the oil.
Sprinkle with some chaat masala or amchur powder and serve immdediately.
---
KHUSKHUS ALOO RECIPE
Ingredients:
3 green chillies
6 potatoes, peeled, cubed
salt to taste
1/2 tsp turmeric powder
Cut coriander leaves
3 dry red chillies
2 tbsp khuskhus roasted
3 tblsp oil
1/2 cup water
How to make kaddu ka raita:
Grind the roasted khuskhsu along with the green chillies and a few tblsp of water to a very fine paste.
Keep aside.
Heat up half of the oil in a pot for 2 minute till very hot.
Shallow fry the potatoes in batches on medium heat up till they are lightly browned.
Heat up the remaining oil in the same pan.
Mix in the whole dry red chillies and turmeric powder.
Fry briefly.
Now mix in the khuskhus paste and fry again on low heat up for 5 minutes till the oil has left the sides of the pan.
Mix in the fried potatoes and mix well.
Mix in water and salt.
Stir, cover and keep on low heat up for 15 minutes till the potatoes are soft.
Decorate with cut fresh coriander.
Serve hot.
---