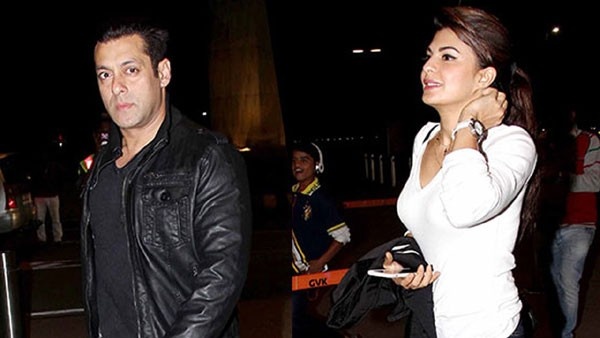 We were the first one to exclusively report to you how Team Race 3 along with Salman Khan, Jacqueline Fernandez, Anil Kapoor, Bobby Deol, Daisy Shah, Saqueeb Salim will be flying to Kashmir to shoot for the final song of the film this week. A source had revealed to us, "Salman will fly out next week to Kashmir. He, Jacqueline and the team will shoot for Race 3 for two – three days in Srinagar. They will shoot for a couple of scenes and a few portions of the Allah Duhai Hai song, before going to Leh, Ladakh and finally wrapping up the film. Salman Khan's tryst with Kashmir is long standing and the makers are sure that the beauty of the film will be enhanced by shooting in Srinagar and Leh."
Salman and Jacqueline were spotted leaving for Kashmir this morning and we might as well add, how fit is Salman looking in these recent pictures; especially his chest and the biceps. Well, we can only anticipate how hot he is going to look in the song that's going to be shot shortly.
Reminds us how Salman had once mentioned about his love for Kashmir after he visited the place for Bajrangi Bhaijaan. "Be it for films, family vacations or honeymoon, people should visit this place. It is the most beautiful place on planet earth. The people are very gentle, well mannered, beautiful and simple. I enjoyed my stay here and Insha Allah (God willing) will again visit very soon. I request all that the way I came here, they should visit too. If you have not seen Kashmir, then you have not seen anything." After 3 years, Salman heads back to the mountains again and we are sure the beautiful Kashmir is going to help this song become the highlight of Race 3.