"Saket Foundation" launched on his 31st Birth Day by Family and Friends of Dr. Anil Golhar

Philanthropic work and Social Health Care already started.
On way to participate in an Orthopaedic Check up camp in a remote areas of Chhindwara in Madhya Paradesh, one of the budding Orthopaedic Surgeon and son of Dr. Anil Golhar was killed on spot in the wee hours of morning in the month May 2015 along with four others. He would have turned 31 on Tuesday, 29th of December 2015. The family has overcome his loss and has decided on sugestions of friends to carry out the work for which Dr. Saket, the 3rd Year Student of MS Orthopaedics of NKPSIMS and Lata Mangeshjkar Hospital to form "SAKET FOUNDATION"
With the humble beginning already projects of awareness on Osteoporosis and Cancer had been undertaken not only in Vidarbha and Maharashtra but other places too, informed Dr. Uday Mahorkar on of the trustee and batch mate of Dr. Anil Golhar, Prof. of Orthopaedics NKPSIMS and saught suggestions on what can be done by foundation.
The evening brought number of well wishers to Hotel Heritage Embassy, Hingana d to witness the commemoration of Saket Foundation. At the outset 2 minutes silence was observed for the departed soul. Bhajan and Devotional songs were presented by Miss Manjiree Vaidya. Dr. Narendra K. Deshmukh, former Dean, IGMC, MLA Sunil Kedar, Dr. Ashok Arbat, Dr. Vinay Hazare Dean Govt. Dental College, Dr. Govind Varma ex Dean NKPSIMS, Poet Mr. Sudhakar Gaidhane, Dr. Wai Ming Ku, Malasia, Dr. Sushil Mankar, Dr. Ashutoish Apte, President Vidarbha Orthopaedic Society, Dr. Vrinda Joglekar, expressed their feelings and put forth certain suggestions. Joseph George presented the owrk done so far on power point.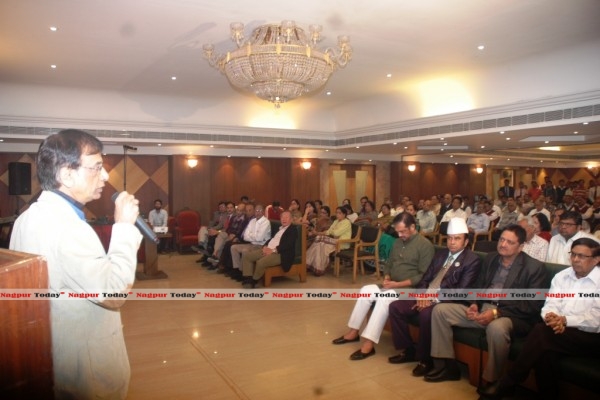 Dr.Anil Golhar urged people present to continue to support the foundation in what ever way they can and requested to put soil in tree pots which will be planted at appropriate places symbolising beginning of the task of nurturing his memories. Free ship and scholar ships to poor MBBS students, free medical treatment to orthopaedic patients not affording treatment, are few of the motto of the foundation, Educational CMEs and workshops are also likely to be held in near future he added.
Dr. Anil Masand and Dr. Ashutosh Apte compeered the programme.
Prominently present on the occasion were Mrs. Bhumala Golhar, mother of Saket, Dr. Bakane, USA, Dr. Sanjay Khemuka Dr. Babu and Dr. Vaishali Khedikar, Dr. Charulata Ranade, Dr. Asha and Ram Bajaj, Dr. Mrs. Bhagyalaxmi Katakwar, Dr. Nalini Kurve, Dr. Kalmegh. Those who worked hard for the success of the programme were Vaibhav Golhar, Manish Sharma, Prakash Chakole, Babjyotsingh Khanduja Dr. Sudhir Mangrulkar and Dr. Harish
Photo and News coverage by Dr. Sudhir Mangrulkar, Physiotherapist. 98231 56912.