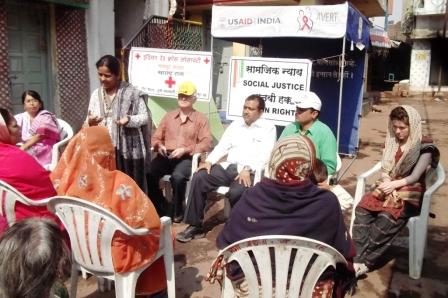 Nagpur News: Human Rights NGO Sahyog Trust conducted a camp and discussion with commercial sex workers (CSWs) at Nagpur's red light area Ganga Jamuna today. Doctors and Human Rights Activists interacted with CSWs and listened to their grievances.
The Nagpur branch of the Indian Red Cross Society also associated itself with Sahyog Trust for the programme, as their members visited the residences of CSWs, observed their living conditions and listened to their problems and complaints. NGO workers also discussed the legalities of their situation, and explained to the CSWs their right to ask the police for help and protection.
CSWs also spoke to the media about the dire economic conditions that had compelled some of them into joining this profession. They hope for assistance and formal identification, along the lines of the BPL card system, to help them avail governmental help.
Hemlata Lonave, Smita Singalkar, Ashish Sarode, Rama Sarode, Sarogi Tamshotti, rasad Kashid, Vikas Shinde, Savita Khotre and other NGO workers from Nagpur, Nashik, Pune, Solapur, Amravati, Yavatmal and other areas were involved in the programme.