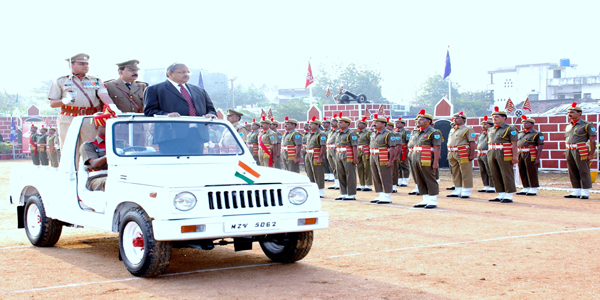 Nagpur News : Western Coalfields Limited celebrated Republic Day with full of enthusiasm and spirit. Shri. D. C. Garg, Chairman Cum Managing Director, Western Coalfields Limited, unfurled the National Flag and inspected the ceremonial parade by the WCL Security Guards.
 Addressing to the WCL family members Shri. Garg said that we have always excelled in our performance and this year too we are striving hard to achieve coal production target for the financial year 2012-13. Hon'ble Union Minister of Coal Shri. Sriprakash Jaiswal has also called upon us to strive our best towards the achievement of production target despite of adverse geo mining and other conditions. Shri. Garg called upon the employees of WCL to give priority to keep safety first while marching towards production – productivity. After address, Shri Garg distributed prizes to excellent Security Personnel. Wani Area of WCL has been awarded Brigadier M. V. Wadke Trophy for best security system.
 The celebration was attended by WCL – Directors, members of steering committee and welfare board, HOD's, Senior officers, employees, ladies and children. The celebration was also attended by The First lady of WCL and President of Jhankar Mahila Mandal Smt. Shashi Garg along with the Vice Presidents of Mahila Mandal Smt. Shobha Prakash & Dolly Dayal. After performance given by WCL Band & Commandos, large number of employees participated with full enthusiasm in Musical Chair & Tug of war. Beautiful tableau's were also displayed by various areas of WCL on the occasion. The programme was conducted by Sh. R.G. Gadem, Sr. Manager (Per).