Sadar-based company dupes & robs hundreds of youths by bogus promise of jobs in IT sector

Nagpur News.
In a scandalous development that could be termed duping of jobless youths in massive proportions, a company allegedly cheated and robbed hundreds of youths by promising lucrative jobs and thus collected crores of rupees.
According to Sadar police, till now 11 jobless youths have lodged cheating complaints with them against the company. According to police, the AAKG Company, located in Mangalwari Complex, JB Wing, Second Floor, put up advertisements in various newspapers mentioning good employment opportunities for IT students in Information Technology (IT) Sector. Dozens of jobless youths approached the Company in the hope of good jobs. However, the Company allegedly recovered Rs 25,000 each from the youths in the name of Security Bond. And they were given appointment letters, too, and provided jobs in the Company itself by promising a good training and handsome salaries. However, the youths were forced to sit idle in the office for a month. They were neither given a good training nor high salaries.
The AAKG Company uncannily appointed highly educated and smart girls as telephone operators and their job was only to allegedly lure the youths for jobs. However, the girls, it appears, were not aware of the Company modus operandi to dupe the jobless youths.
One of the complainants, Sarika Shantaram Moon (25), resident of Shivajipeth, Ward No. 30, Wardha, told police that the AAKG Company's Director/Owner Ashvini Ashok Kumar Gupta (AAKG) promised her of a job in the Company and took Rs 25,000 as Security Bond for one year. But, after appointing her in the Company, Sarika was allegedly so hassled and harassed mentally with the well-conspired nefarious designs that she would think of leaving the job. But when Sarika did not leave the job, the AAKG Company started resorting to threats that her career and life would be shattered and finally forced her resign by doling out life threats. The helpless Sarika Moon reached Sadar Police Station and lodged a complaint against AAKG Company. The Sadar API Shirke booked Ashvini Ashok Kumar Gupta under Sections 420, 506, 504 of the IPC and is probing the matter further.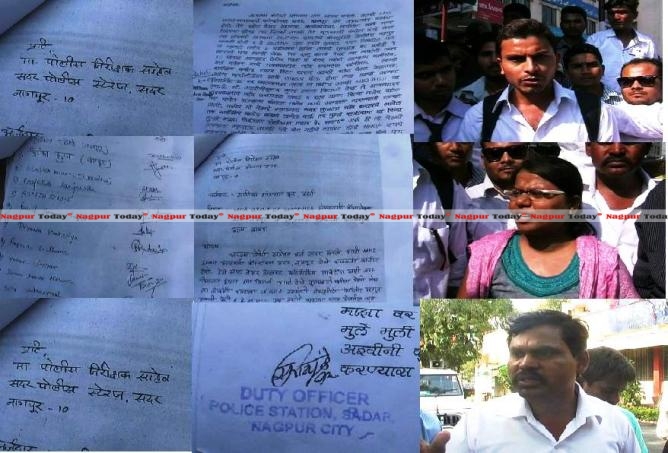 There are hundreds of youths who faced the same situation like Sarika Moon. However, in the new development, the cheated youths knocked the doors of Akhil Bharatiya Manavadhikar Sanghatan. The Sanghatan activists stormed the Company office and caught hold of Ashvini Ashok Kumar Gupta and handed him to Sadar police on Thursday.
According to sources, earlier also three police complaints were lodged at Sadar Police Station against the company but police conveniently neglected the complaints and no action was taken against the AAKG. Till now, more or less 1000 youths have allegedly been trapped and cheated by the Company and recovered Rs 25,000 from them amounting to scandalous crores of rupees. A detailed investigation is likely to reveal the ugly truth, sources said.