The onus of loss of one academic year of a student is irreplaceable.
Why should the students suffer for the lack of planning & coordination in RTMNU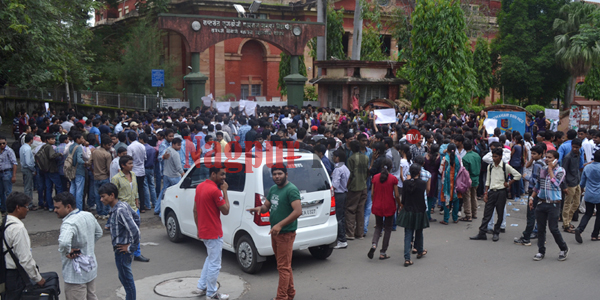 Nagpur Today.
As usual, this year too the declaration of the results of Engineering was 2.5 months,when it should have been declared in 1.5 months' time. Whenever this issue is raised with the VC, Pro-VC, Controller of Examinations, BCUD and other authorities, they have a permanent answer. They have limited lecturers in the colleges. They have limited number of valuers even when the load of valuation and number of students are growing every year. Delay in valuation causes delay in declaring the results. Why should students suffer for their lack of staff /  valuers. Since this has been the trend every year, why has the RTMNU authorities not ensured appointing new and more number of valuers. Who is going to pay for the college tuition fees, boarding and lodging, studies and other expenses of every student who is losing one academic year.
In an Utopian condition, every student should study hard and pass all the subjects. But this cannot be expected with every student. Various factors like sickness, accidents, loss of the life of close realtives, economic or financial conditions cause a student to take a drop, fail in exams etc. Do they have to suffer?
The students of engineering in RTMNU who have provisional admissions are in a fix since the revaluation results have not been declared by the university, even as their examination dates have approached. A large number of students who have applied for the Xerox copies of their answer papers and have not recieve the same as yet. Meanwhile,the engineering exams of RTMNU is scheduled to start from November 18, 2013.
Thousands of these students from various engineering colleges of RTMNU have been suffering every year. Last year too, the winter 2012 examination of engineering was postponed because the revaluation results were not declared on time. The last year's incident is one of the main reasons which is provoking the students into thinking that this year too, the exams will get postponed.
There are rumours going around in the students circle that the examination will definitely get postponed. These rumours should have been put to rest right on Monday evening when Vice Chancellor Dr Vilas Sapkal refused to postpone the examinations. This in spite the fact that a resolution was passed in the meeting of board of examination to postpone the exams.
This goof up of delay in issue of Xerox copy and revaluation results the students awaiting their results will lose one precious year of theirs as they will not able to appear for the coming examination.
The future of many such students is at stake, only because of the mismanagement in revaluation facility of the RTMNU.
Some students of engineering had taken Provisional Admission in 3rd & 4th (final year) year of engineering. They applied for revaluation but the Xerox copies of   3rd/5th/6th/7th semester are not yet arrived in all engineering collages & revaluation result of 4th semester not yet to be declared by RTMNU. So students who have failed by just 2-3 marks and has taken provisional admission, if they passed in Revaluation will be eligible for the next semester that is 5th/7th semester.
But the examination of 5TH/7TH semester will be held only on November 18th-19th, 2013 respectively. Because of irregularities RTMNU, the students will lose one year. Therefore, on whom does the onus lie for the loss of one academic year of students???
(Eligible criteria for 5th semester /3rd year is that student must be all clear in 1st year & 4 heads of subject mean 4 subject backlog of 3rd/4th semester (2nd year ) are allowed.)
(Eligible criteria for 7th semester /4th  year is that student must be all clear in 1st  & 2nd year & 4 heads of subject mean 4 subject backlog of 5th /6th semester (3rd year ) are allowed)