RTMNU Workshop on Sexual Harassment Act 2013: A Great Success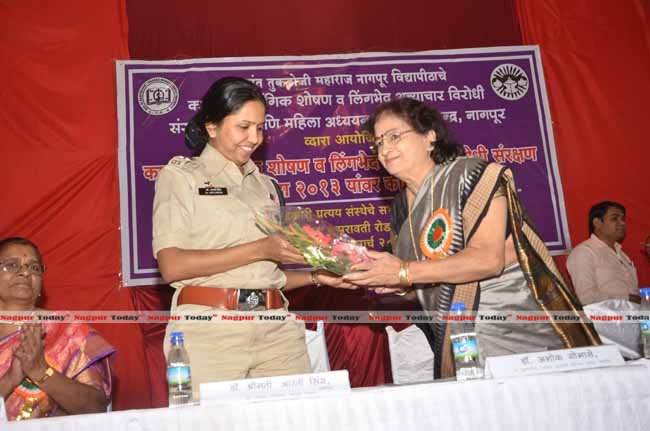 Nagpur News : Centre for Women Studies and Development and the Protection Cell Against Sexual Harassment and Gender Discrimination at Workplace of Rashtrasant Tukdoji Maharaj, Nagpur University, had jointly organized a one day workshop on "The Sexual Harassment of Women at Workplace (Prevention, Prohibition and Redressal) Act 2013", on Tuesday, 4th/03/2013 from 9:30 a.m to 5:00 p.m at University Employees Credit Co-operative Society, LIT Campus, Bharat Nagar, Nagpur turned to be a grand success.
The key note speaker and Chief Guest on the occasion were Adv. Vijaya Bangde, Member of Maharashtra State Women Commission and Dr. Mrs. Aarti Singh (IPS) Superintendent of Police, Nagpur Division in their respective session. Dr. Neelima Deshmukh, Director, (CWSD) and Member Secretary with Dr. Mandakini Patil, President of the Protection Cell conducted the proceedings of the Workshop, wherein Adv. Smt. Tejaswini Khade, Senior High court practitioner and Adv. Mr. Sanjay Patrikar were the Resource persons and guided their technical sessions. The program was presided over by Hon'ble Vice – Chancellor Dr. Vilas Sapkal.
He emphasized that while working at home Women are a best technician, researcher, friend, philosopher and guide and have to face various problems in life at various phases. Also her domestic work cannot be underestimated. It is very essential for her to avail the conducive and healthy working environment at her work place. He said he is sure that this committee established by the university will ensure the justice to the victims and the institution will always support its cause and concern as the University is committed to the objective. Further he also suggested that this Centre for Woman Studies should take this as a project to translate this act into Marathi so as to make it convenient for common man of this place to know the details and the provisions there in.
The Chief Guest of the Function Adv. Vijaya Bangde said, "This latest act is the best after Vishakha directives and is a gift from Justice late Dr. Verma, who has contributed to a very large extent for the betterment of women, it is necessary that there is over all awareness about this act even at the grass root level and it can be done by the NGO's effectively. Today the woman are working at various levels right from taxi driver to pilot in organized as well as unorganized sectors but then most of them have to suffer on account of atrocities at the workplace. Many laws are in existence to support and protect women but its advantage is not taken by commoners as they are not aware about the provisions. Therefore like other Acts every woman should be made aware about this Act. This could be done profoundly by such kind of workshops.
Dr. Aarti Singh highlighted the existence of various legal provisions and laws for the protection of women but they are not implemented properly. Women should also ensure its implementation in their own interest apart from being aware and alert about it.
Dr. Neelima Deshmukh Director, CWSD said that the Development administration looks at women as not only the passive beneficiaries but the contributors to the National Development. Article 11 of CEDAW, focuses on equity and equality of woman that needs to be protected at any cost and their creativity is hampered if there is violence and non-conducive working environment at workplace in particular. Resultantly, diminishing the individual potentials and countries development. The women can get themselves empowered if this Act is used in proper perspectives rather than suffering the atrocities by men at the work place. They can come forward and register their complaints with the Cell which will be processed at their earliest.
Dr. Mandakini Patil in her introductory speech gave the background of this program and encouraged the women employees of the University to come forward and register their complaints if any.
Adv. Smt. Vijaya Bangde was felicitated at the hands of Hon'ble Vice – Chancellor Prof. Dr. Vilas Sapkal for her re–appointment as a member of Maharashtra State Women Commission.
The program was conducted by Associate Research of the Centre Smt. Nima David and Vote of thanks was proposed by Smt. Kalindini Hingane. They all worked very hard for the success of the Workshop and 150 delegates participated in the Workshop.