Anjali Damania undertakes 'Bike Rally'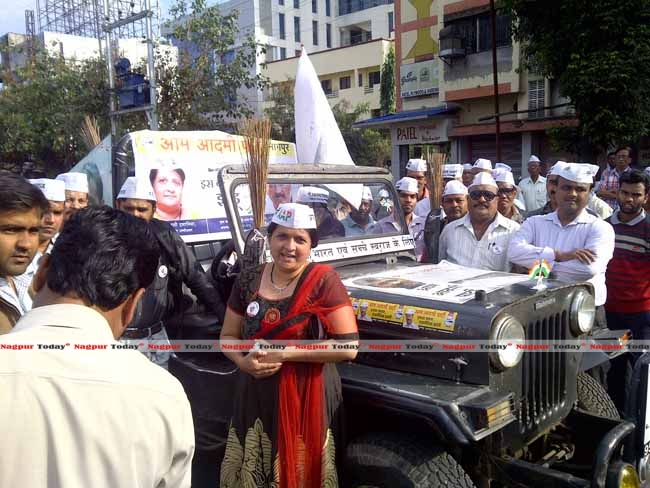 Nagpur News: The Aam Aadmi Party (AAP) candidate for Nagpur Lok Sabha constituency Anjali Damania undertook a Bike Rally in the city on Wednesday as part of her poll campaign. Last week, Anjali had undertaken "Pada Yatras," held meetings, rallies and paid house-to-house visits at different places. Taking  the election campaign ahead, Anjali Damania embarked on a Motorcycle Rally with 50-60 AAP workers in Ward Nos. 68 and 69 coming under South West Nagpur Assembly segment.
Anjali Damania's slogan is: "The entire movement of AAP is based on people's power and the movement will march ahead with the participation of people." She lamented that the politicians even don't fulfill aspirations and expectations of clean governance and clean politics. Damania appeled  people to show today's politicians how their powers can transform the bad situation to a bettertomorrow.
Tomorrow (March 7), Anjali Damania will embark on "Pada Yatra" at 7.30 am from Rani Durgavati Chowk in North Nagpur. She will participate in Bike Rally from 11 am to 2 pm in various Wards. From 3 pm to 4.30 pm, Anjali will directly interact with people in Takia area. In the evening, between 5 and 6, she will take out a "Pada Yatra" in Sitabuldi and discuss with small-big traders.