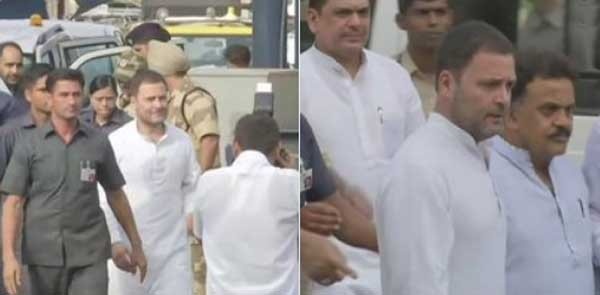 New Delhi: Congress president Rahul Gandhi has pleaded not guilty in the criminal defamation case filed against him by the RSS, said media reports on Tuesday. According to sources, charges framed against Gandhi under section IPC 499 & 500. The next date of hearing has been fixed as August 10.
The case was filed by RSS worker Rajesh Kunte following Gandhi's speech during a rally on March 6, 2014, where he had alleged that "RSS people killed Gandhiji and today their people talk of him…They opposed Sardar Patel and Gandhiji."
Rajesh Kunte had in 2014 filed the case against Gandhi after watching his speech in Thane's Bhiwandi township. Gandhi had earlier moved the Supreme Court seeking quashing of the case. The apex court had, in July 2016, said he should not have resorted to "collective denunciation" of an organisation and would have to face trial if he did not express regret for his remark. The Congress leader had declined to accept the suggestion and expressed willingness to face the trial.
Indiatoday.com said during the last hearing, petitioner Kunte's lawyer Nandu Phadke gave a "no objection" for the summons trial. Phadke gave the reason that in a summary trial, if a judge changes in the middle of the trial, then the entire procedure has to be repeated. "We have already seen that five judges have changed in the last four years of this trial. The entire procedure should not get delayed thus we have given our no objection," said Phadke.