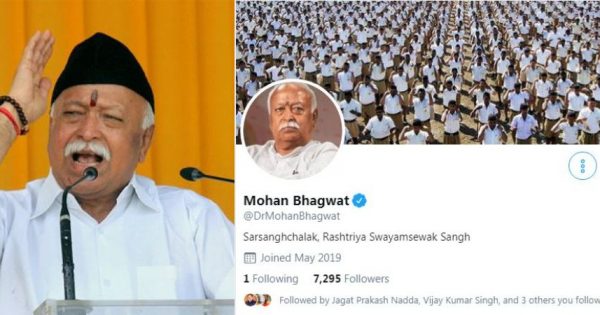 Nagpur:Rashtriya Swayamsewak Sangh (RSS) chief (Sarsanghchalak) Mohan Bhagwat on Monday finally joined microblogging site Twitter.
Besides Bhagwat, six other functionaries of the RSS including Suresh Joshi, Suresh Soni, Krishna Gopal, V Bhagaiah, Arun Kumar and Aniruddh Deshpande joined Twitter. Their Twitter accounts have also been verified. However, none of them has tweeted anything yet.
Bhagwat has followed the official account of RSS soon after joining Twitter and has so far garnered over 7,000 followers. Baba Ramdev, General VK singh, Nitin Gadkari, Jayant Sinha and others followed Mohan Bhagwat on Twitter.
It is to be noted that Bhagwat's following has been increasing with every passing minute.
The RSS official Twitter handle has 1.3 million followers and has been the organisation's official platform for releasing statements. The verified Facebook page of the RSS has over 54 lakh likes.
Aged 68, Mohan Bhagwat born in Maharashtra's Chandrapur. Bhagwat completed his schooling from 'Lokmanya Tilak Vidyalaya' and then the first year of his BSc from the Janata College in Chandrapur. He graduated in Veterinary Sciences and Animal Husbandry from Government Veterinary College, Nagpur. However, Bhagwat dropped out of his postgraduate course in Veterinary Sciences and became a pracharak (full-time promoter/worker) of the RSS towards the end of 1975.
After working underground during the Emergency, Bhagwat became the 'Pracharak' of Akola in Maharashtra in 1977 and rose within the organization responsible for Nagpur and Vidarbha regions. He became 'Akhil Bharatiya Sharirik Pramukh,' for India from 1991 to 1999. He was later promoted as 'Akhil Bharatiya Pracharak Pramukh'.
In the year 2000, when Rajendra Singh and H V Sheshadri decided to step down as RSS Chief and General Secretary respectively due to poor health, K S Sudarshan was nominated as the new chief and Bhagwat became 'Sarkaryavah,' (General Secretary).
Bhagwat was chosen as the Sarsanghchalak of the RSS on 21 March 2009. He is one of the youngest leaders to head the Rashtriya Swayamsevak Sangh after K B Hedgewar and M S Golwalkar.
In June 2015, due to a high threat perception from various Islamic terrorist organisations, the centre ordered the Central Industrial Security Force (CISF) to provide Bhagwat with round-the-clock protection. At Z+ VVIP security cover, Bhagwat is one of the most protected Indians today.
In 2017, the state-run Animal and Fishery Sciences University awarded Mohan Bhagwat with an honorary doctor of science (DSc) degree during its convocation ceremony in Nagpur.
Bhagwat is known of giving his take on political issues, had recently commented on the political violence in West Bengal and said it is the responsibility of the government to act in the interest of the people and implement law and order through strict action. He had said the people who were killed may belong to a certain party, but calling those who protest against such killings as "outsiders" is wrong.
After BJP registered a comprehensive victory the 2019 Lok Sabha elections, Mohan Bhagwat had said, "Ram ka kaam karna hai, Ram ka kaam ho kar hi rahega (Ram's work needs to be done and Ram's work will be done)."