Nagpur: Immediate approval for 240 crore for land acquisition and rehabilitation works of Gosekhurd irrigation project will be given. These works should be completed in coming three years and completion process of project should be stepped up, directed chief minister Devendra Fadnavis to officials during meeting held at Ramgiri on Monday.
Chief minister Devendra Fadnavis took review of various development works in Nagpur district on Monday. During the review meeting, guardian minister Chandrashekhar Bawankule, Ramtek MP Krupal Tumane, MLA Dr Milind Mane, MLC Prakash Gajbhiye, MLAs Ashish Deshmukh, Sudhir Parve, Krishna Khopde, D Mallikarjun Reddy, Nagpur Zilla Parishad president Nisha Savarkar, principal secretary Praveen Darade, divisional commissioner Anup Kumar, commssioner of police S P Yadav, special inspector general of police Ravindra Kadam, district collector Sachin Kurve, chief executive officer of Nagpur Zilla Parishad Shivaji Jondhale, superintendent of police (rural) Dr Arti Singh and senior officials of agricultural and irrigation departments were present in the meeting.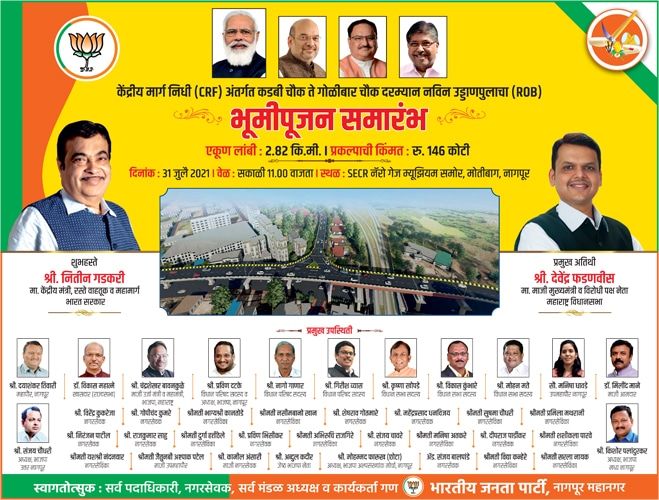 Chief minister Devendra Fadnavis said, "Work of Gosekhurd irrigation project should be done on mission mode by taking review of unfinished rehabilitation and other works. Incomplete irrigation projects in the district should be completed. Mukhabardi project would be over by December. Similarly, other projects should be completed. Water should be used properly for irrigation and proper planning should be done."
Nagpur district collector Sachin Kurve informed that 12.50 crore out of 13.67 crore received for Gosekhurd irrigation project have been disbursed. 3.49 crore out of 7.52 crore have been spent on providing civic amenities. Proposals of giving 'A' class tourist place status to Hazrat Tajuddin Baba Dargah and Deekshabhoomi have been sent on June 30, 2015 last. 753.61 crore have been given to 78,437 farmers for kharif season under crop loan scheme. 110 crore have been given to rabi season by last December.
There are various types of roads totalling 10,763 km in length under Nagpur Zilla Parishad. 9.30 crore have been received for repair and maintenance of these roads during 2015-16.
MP Krupal Tumane raised issue of compensation of land acquired for coal mines by Western Coalfields Limited.
Similarly, people's representatives raised issues like former malgujari lakes, tap water supply scheme, farm ponds, Jawahar wells, sand blocks for construction of irrigation projects, land for Sanskrit University, development of Umred-Karhandla wildlife sanctuary, pollution in Ambazair lake due to factories in Hingna MIDC area, meeting hall and other facilities at Kanhan crematorium, special efforts of completion of Kochidharan and Satrapur irrigation projects.
Chief minister's officer on special duty Asha Pathan, resident deputy district collector Ravindra Kumbhare, rehabilitation officer Prakash Patil, joint directorof agriculture Dr Vijay Ghavte, district superitendent agriculture officer Archana Kadu, deputy registrar Bhosle, Agrani Bank's Mashankar and officials of concerned departments were present during meeting.