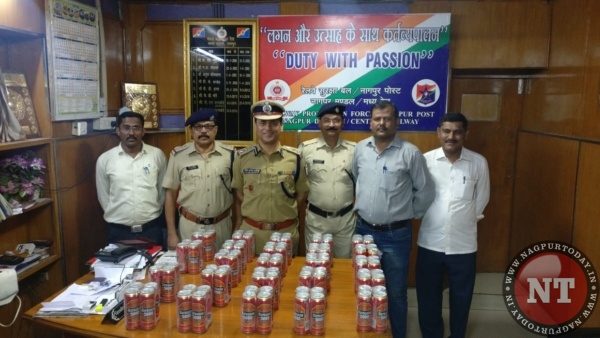 Nagpur: The Railway Protection Force (RPF), Nagpur, seized a consignment of 96 bottles of beer abandoned in general coach of Hazrat Nijamuddin Vishakhapatnam Swarnajayanti Express on Sunday at Nagpur Railway Station. The liquor was meant to be smuggled to Chandrapur district that has been declared as 'dry district.'
An RPF team set up by the Senior Divisional Security Commissioner Jyoti Kumar Satija received a tip off that a stock of liquor is being smuggled from Nagpur Railway Station. Acting on the input, the team raided the general coach of 12804 Hazrat Nijamuddin Vishakhapatnam Swarnajayanti Express standing at Platform No. 2. The raiding cops found four abandoned bags placed at four different spot in the general coach. When being asked, no passenger claimed the four bags as their own. This led to suspicion and the RPF team searched the bags. The cops found 96 bottles of Haywards 500 beer (500 ml) manufactured in Madhya Pradesh. The seized stock of beer bottles is worth Rs 12,960. The beer bottles were later handed over to State Excise Department for further course of action.
The RPF has been conducting regular drives in trains to tackle illegal ferrying of liquor, contraband and other substances. After the successful crackdown on ganja coming from Vishakhapatnam, the RPF is now targeting illegal smuggling of liquor. Liquor consignments are mostly smuggled to Chandrapur district, where liquor is banned.
The raid and seizer was made by RPF ASI Ramnivas Yadav and his team comprising Head Constable N P Wasnik, constables Vivek Kanojia, Yogesh Pille, Jasvir Singh, Anil Usendi, and G N Kendre of State Excise Department under the guidance of Senior Divisional Security Commissioner Jyoti Kumar Satija.