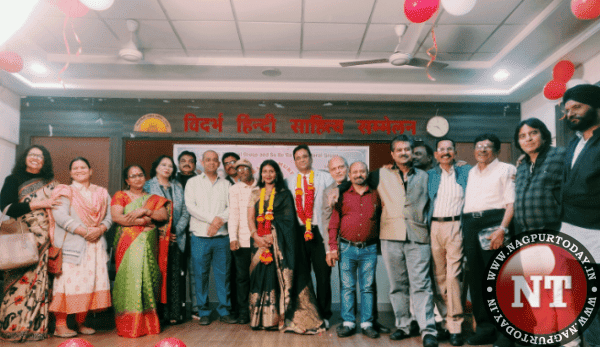 Nagpur: Sing on and Sa Re Ga Ma MusicalGp Nagpur has organized Live Musical concert "Romantic Mukesh Part 1"at Arpan Hall Mor Bhavan Situlbuldi Nagpur. Sing on and Sa Re Ga Ma Musical Gp has given a musical feast to all viewers. Viewers shower their comments on the Singers and organizers. Huge no comments and compliments was there to the show.
A N Sharma Meera Sharma Director of Sing on Gp Dr Sanjay and Varsha Uttarwar Directors of SaReGaMa Cultural Group present soul full songs of Mukesh. It was aunique program by Sing On and SAREGAMA Musical Gp for journey of sweet Songs. Mr and Mrs Sharma, Dr Sanjay Uttarwar , Shrikant Dikshit,Pratibha Kadu, Raj Gwalani, C Y Raipure, Chandan Pathak, Sachin Mhaskar, Mukesh Shrivastava was the artists who were present for program . Dr S S Uttarwar A N Sharma are the versatile singers who perform songs of various singers with perfection.
Show was attended by majority of viewers from Maharashtra and Goa and around the globe. During program all participants has celebrated 32nd Marriage Anniversary of Mr and MrsVarshaUttarwar who is known as Voice of Mukesh in Nagpurs Musical World. Show was live on Face book. Concept was of Meera Sharma, Coordinator was A N Sharma. Anchor was Pratibha Kadu and Shrikant Dikshit.
Dr. Sanjay Uttarwar and other renowned people of Nagpurs musical world witness the program and extend their best wishes to Sing On Musical Group. He congratulate Sharma Couple for successful conductance of show. Dr. Sanjay Uttarwaris having immense interest and liking to the field of music. He is a renowned Academician , Ex Principal, Social worker and director of SAREGAMA Cultural Gp. He is associated with various social and cultural bodies of Nagpur.
Soulful songs
YadRahegapyarkawoRangeenjamamnaYadrahega……., Tauba Ye MataliChal……., Ham to tereashiquehaisadiyoPurane……,Cherese jaraaachalll…., ChoriChoritumsemili to log kyakahemge….., Dam Bhar Jo UdharMuhFere…., Do kadam tum bhichalo….., Fulaahistafeko…., Ye to KahoKaun ho Tum…., EkPyarkaNagma Hai…., Maine TereLiye hi Sat Rang Kesapnechune…, Chale Jana JaraThahro…, Ye MausamRangeensama…, and many more songswere presented by Singers.
Kya KhubLagti Ho…., a master piece song from ever green film Dharmatma Sung byDr Sanjay Uttarwar and DrVarshaUttarwar received loud applaud from audience. Audience enters in the era of legendary singers Kanchan andMukesh Chandra Mathur. In addition to he presents Chand Si Mehbooba Ho MeriBhi ….and hall zooms with loving vibes and cheers. itMr A N Sharma and Mrs Sharma presents ChoriChori Hum Tumse Mile to log kyakahenge… and received loud cheers from audience. MrChandan Pathak Received best singer award sponsored by C Y Raipure.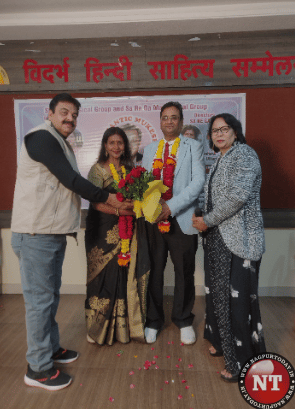 Viewers gave thanksMr and Mrs Uttarwar , A N Sharma and Meera Sharma for lovely organization and extend his good wishes for future of the them.
Subhash Dapurkar, Sardar Jasbeer sing , Dr Salim Chavan ,Vijay Puranik,Nalini Chauhan, Sanjay Gawai, Mr Yoganand Bopche, Mr. Rakesh Bopche , , Mrs. Manisha Puranik, Mr., Sanjivani Chaudhary, , Manish Mukkawar , Harshali Kherche, Aashish Taywade and many more music lovers has attended and joined program. Program come to end at 9.30 pm.
.