Dr A R Bapat who is a renowned academician of city and Ex Principal of St Vincent Palloty College of Engg and KDK Nagpur was sharing his views during visit to stall of GNIET at ISC 108 RTMNU Nagpur.
Dr S S Uttarwar A Dean Students , GNIEThas displayed his model of patent " Animal Pulled Pesticides Spraying Machine " under Startup Category at Science and Technology Exhibition , under Indian Science Congress 108 at RTMNU Campus Amravati Road Nagpur. While sharing his views about his innovation.
Dr Sanjay Uttarwar share that how their invention is fruitful and useful for farmers of our country. We always here news about casualties of farmers during spraying season of insecticide and pesticides because of poisoning during process. At the same time our invention gives remedy to farmers from problems of backache and joints pain.
In their invention Dr Sanjay Uttarwar, Dr Girish Mehta, Mr. Sagar Jawlekar, Prof. S D Awatade, Prof. S D Shelare, Prof. Mrs R S Tupkar has designed and invented a bullock cart mounted pesticide spraying machine , which will pulled by a single bullock and rotational motion of wheels of bullock cart is converted in to reciprocatory motion of knapsack pumps mounted on frame of bullock cart. Because of which , farmer who is doing spraying don't have to do any physical work for creating of pressure in pumps. What he has to do is just move nozzles on both sides of crops to spray pesticides on it. By just pressing the nob of nozzle pipe , he will easily spray insecticides and pesticides in required proportion and quantity on crop on which he wants to do spraying. Farmer can mount the pipes of spraying nozzle on flexible stands provided on bars of bullock cart. Farmer can cover maximum area of spraying during very less time. Hence it's a economical process for him by saving days of working. Required labor for said spraying is also very less. Further invention which is in pipeline for said model is , its working on Battery operated mechanism and sowing of seeds too. Said model is designed to work on hard soil of Vidarbha Area , where major crop is Cotton, Tur and Jawar. Practical trials of said model has taken in the field at Pulgaon Dist Waedha , Where it is found that said model is very useful and efficient for working.
Dr Sanjay has given demonstration of his invention to the gathering of technology loving people and upcoming technocrats who visits their stall during the exhibition. Huge no of visitors has visited Exhibitions under ISC 108 at RTMNU. Eminent personalities who has visited the exhibition and stall are… Hon'ble Minister of State (Science and Technology) Dr Jitendra Singh , Hon'ble Shri Devendra Fadanvis Dye Chief Minister M S , Dr Prashant Bokare Vice Chancellor Gondwana University, Dr Subhash Chaudhary Vice Chancellor of RTMNU, Dr Sanjay Dudhe Pro Vice Chancellor of RTMNU, Shri Mukulji Kanitkar , Dr Kalpana Pande President Vidyapeeth Shikshan Manch , Dr Satish Chafle Secretary Shikshan Manch, Dr H N Karade Senior scientist DRDO, Dr Avjit Nag , Senior Scientist DRDO, Dr B Nagendra Babu Senior Scientist CSIR Indian Institute of Chemical Technology , Dr V Prasad Rao RVCE Banglore, Dr Vikas Kumar IISC Bangluru, Dr T Krishnan IIT Mumbai, Dr. Subbareddy Amity University, Dr Virendra Swarnkar Registrar Bharti Vishvavidyalay Durg, Dr Mukesh Kumar Rai Dept of Law, Bharti University, Dr Sangeeta Bhattacharya Bharti University , Dr Pande Principal RCOEM, Dr Surendra Gole Principal , Pallotee College of Engineering, Dr. Pande Principal Sevasadan College, Dr Salim Chavan Principal GWCET, Dr Sanjay Badjate Principal S B Jain College of Engineering, Dr. Bawane Principal Jhulelal College of Engineering, Dr Girish Thakare Principal BDCOE Wardha, Dr Vitthal Arazpure Principal Suryodaya College of Engineering, Dr Gorantiwar Principal Sai Engineering College, Mr. Micah Ayub , Dr Chandrahas Handa Professor, KDKCE, Dr Ingale SRPCE, Dr H V Hajare Principal GNIET, Dr Sudhir Shelke Principal , GNIT, Prof. Rajendra Bhombe VP GNIET, Dr Girish Mehta PCE, Dr Narendra Wadaskar GNIT, Dr Ujwal Gulhane Professor BDCOE, Dr Bhagat Professor GWCET, Dr Sawai GNES, Dr Madhavi Vairagade Jhulelal COE, Mr Shital Likhar Dy Registrar GNIET and many more dignitaries has visited to GNIET Stall at ISC exhibition.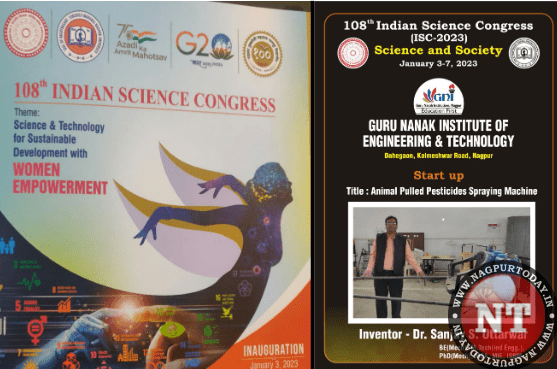 Dr Uttarwar express his gratitude towards Hon'bleSardar Navneet Singh Tuli, Chairman GNES, Hon'ble Sardarni Tanpreet Kaur Tuli, Secretary GNES , for their constant support and encouragement. He also thanked Dr H V Hajare Principal , Prof. Rajendra Bhombe Vice Principal and staff of the GNIET for extending their cooperation to him. Further he thanked Dr Dhale Principal PCE, Dr . Imran Khan HOD Mech PCE, , Dr Jonathan Joseph HOD MBA, Prof. Puja Nagpure , Prof. Nikita Khadgi from Dept of MBA GNIET. He thanked Dr R V Kshirsagar Ex Dean of RTMNU and Present Principal of Gyanganga College of Engineering Jabalpur for his constant Motivation. He thanked to Dr A R Bapat for his constant motivation. He also thanked to his patent collogues for showing trust within him. He thanked Mr. Parvez Bhai from GNES for designing banner for presentation. He Thanked to Prakash Palimkar, Mr Chandu for their cooperation in DTP work.