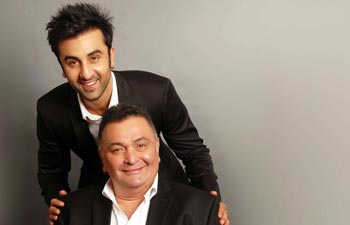 "Kapoor's" home banner RK Films would be revived how & when revealed Rishi urf Chintu Kapoor. Rishi lets out the big secret plan with Ranbir, "Besharam was the testing ground for the two of us together onscreen. We would now like to do something deeper. A remake of my father's Awaara is on our minds. And in all likelihood we will be doing it for our banner RK Films."
Rishi Kapoor when asked on direction said. "No thanks. Direction is a thankless job. I don't want to get into that space at all. I am very comfortable and happy as an actor. I am having a ball."
Rishi says, "It's intentional. I wanted to prove myself as an actor. Log bol rahen hain ke Ranbir Kapoor achcha actor hai. Yeh bhool gaye ki Rishi Kapoor bhi actor hai. They say Ranbir is Raj Kapoor's grandson. They've forgotten the generation that came in-between. Hello, knock knock… I am not going away anywhere yet. I didn't want Ranbir to be called a chip off the old block. I wanted that I should be known as a chip off the new block. Today loads of work is coming my way. I'm at liberty to pick and choose."
Rishi has seven releases in 2013. He couldn't be in a better personal space either. "I've started doing yoga. That gives me peace of mind. I am unhappy that I can't kick my habit of consuming alcohol. That's one thing I'd like to change. I'd also like to cut down my weight. But my producers get worried about the continuity in their films. 'Please finish my film and then lose weight,' they say.
But on a final note Rishi Kapoor and his son Ranbir are getting ready to step into Rishi's grandfather Prithiviraj and father Raj Kapoor's roles in Awaara. But who will play the role of Nargis?
Is still a question with no answer?