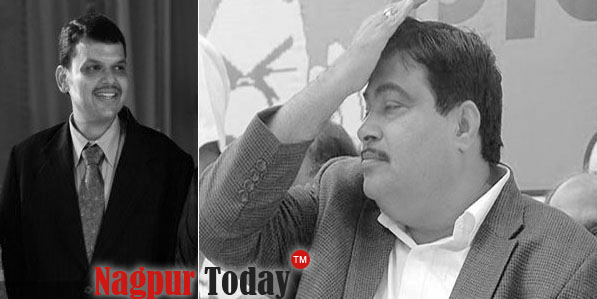 Nagpur News: Since Bharatiya Janata Party (BJP) National President announced candidature of former party President Nitin Gadkari for Nagpur Lok Sabha seat it seems the entry in Lok Sabha could prove a herculean task for Gadkari. His hardcore rivals within BJP have become active to foil his victory even his candidature. Not only his critics within BJP the Opposition parties are too planning in connivance with unhappy BJP leaders to make his way to Parliament a difficult one . A former BJP MP and his loyal group have prepared a strategy against Gadkari since one year ago or so. The MP is getting clout and more clout  and is hell bent to see that Gadkari is denied candidature for Nagpur seat and even if he gets the ticket Gadkari should not emerge victorious. A leader like Gadkari will not find it easy to enter Parliament as far as leaders of Vibhishan's class are active in BJP.
Gadkari had felt when he was National President of BJP that his role in national stage could not be recognised unless he occupies a seat in Parliament as its member. But Gadkari was always the target of other national party leaders who said Gadkari is only an MLC who made a backdoor entry in  Maharashtra Legislative Council. He was always told that the leaders who were elected by people in general elections for years together and are working for voters in Parliament have a special place in the party and in the national scene.
Gadkari was feeling uneasy over his non-recognition in the national scene and the status needed to be for national role . Finding it difficult, Gadkari hurriedly had announced his candidature for Nagpur Lok Sabha seat  when he was National Predident of BJP. Taking the announcement as insult the former MP, who represented Nagpur Lok Sabha seat for years together, blasted the party leadership for not consulting him and even asserted that his political career was dented by "capturing" his seat by Gadkari. It may be mentioned that many Gadkari's hardcore rivals within BJP swear loyalty to the former MP.  Gadkari and the former MP resorted to intense criticism against each other over some vital issues in the past. But they resolved their differences for the time being. The most significant fact was both the leaders obstructed each other's way to climb supremacy in the party and in other field. The differences were kept within the party. However, the rivalry was made publicly several times with the help of outsiders and even with opposition leaders.
The fighting within the party foiled the second chance for Gadkari  to become National President of BJP. Now, Gadkari is tagged as only former chief of party and an MLC. But he holds the status of senior leader of party and commands respect by some leaders.
Another crucial issue is Gadkari is no mood to replace his confidant Mungantiwar as Maharashtra President of the BJP. He has made his intention clear that if Mungantiwar is remaoed his other close aide Vinod Tawde must be made State unit President. He is making all efforts to see that the local rival in not installed as State President of the party at any cost. Gadkari is ready to make the local rival the President of State unit on one condition that he should whole-heartedy support Gadkari's candidature for Nagpur Lok Sabha seat and take great efforts for victory in the polls.
The most important factor troubling not only Gadkari but also the BJP is that Muslim, Christian and Dalit voters are wary of the party. The party has failed to bring these voters in the BJP's votebank. Even if Gadkari makes all out efforts to please these voters it is certain that Muslim, Christian and Dalit voter would keep themselves away from the party. However, politics is a different ball game. Nobody could predict which issue will play a fair game with any party. Only time can prove the outcome of any polls.  The Teli community is with BJP for long years but the party is not so successful in capturing Kunbi community voters.
That the luck plays an important role could be said about Muttemwar. He gets elected even in all adversaries. Gadkari will have to change the situation by turning no stone if he were to win the Nagpur seat. This is a sort of challenge Gadkari will face in his desire to reach Lok Sabha.
Meanwhile, many Corporators say they will get benefits if Gadkari fights the election notwithstanding the result. A BJP leaders stated that to keep away Muslim voters from Congress the party is considering to request Muslim League to put up their candidate. Gadkari and the party are also seriously planning such a strategy to hurt the Congress in Nagpur.