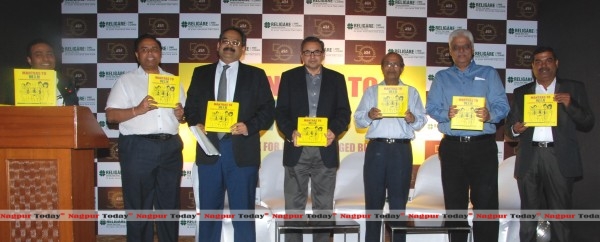 Nagpur News : Religare Finvest Limited (RFL), the SME-focused lending arm of Religare Enterprises Limited, today launched 'Mantras to W.I.N' – a guidebook on Family Managed Businesses – in association with the Vidarbha Industries Association (VIA). The book has been curated as part of Religare's thought leadership initiative and outreach programme for SMEs which are mainly Family Managed Businesses (FMBs).In addition , the launch of this book is part of 50th "Golden Jubilee Year" celebration of Vidarbha Industries Association.
'Mantras to W.I.N' is a step-by-step guide for FMBs to help them understand their company structure and enable them to build strong foundations on family strengths. It comes equipped with easy to consume information, engaging info-graphics and 'Do-it-yourself' tests to gauge their own aptitude, which will trigger them to self-analyse, evaluate and restructure themselves accordingly. The theme of the book, which focuses on three important concepts, aptly stands out as the acronym in its title 'W.I.N' – W- Wisely choose your values and leadership ; I- Improve strengths and resources ; N- Nurture growth and brace up for the future.
The launch was followed by a panel discussion on 'Family Managed Business- A force to reckon with.' The eminent panelists like  Anand Sancheti, Deepak Chowdhary, Kumar Kale &  Prafull Doshi, presented and shared their views and experiences on the subject.
Speaking on the launch, Kavi Arora, Chief Executive Officer, Religare Finvest Limited said, "Religare Finvest Limited is committed to becoming a complete growth-oriented partner for all its customers. With this book, we would like to share our management experience from which the FMBs can learn and manage their business better and more efficiently. Through such endeavours we look forward to not only making financing easier for SMEs through innovative, pioneering and industry-leading offerings but also providing them with solutions beyond finance that will enable them to become robust organizations in the long run."
Anil Parakh, Vice President- VIA, said "We are pleased to associate with Religare Finvest Limited in their thought-leadership initiatives. It is heartening to see leading financial services organizations like RFL to reach out to emerging and important SME-clusters like Nagpur. We look forward to supporting them in more initiatives like this in the future as well.'