Rajasthan Mahotsav draws denizens by hoardes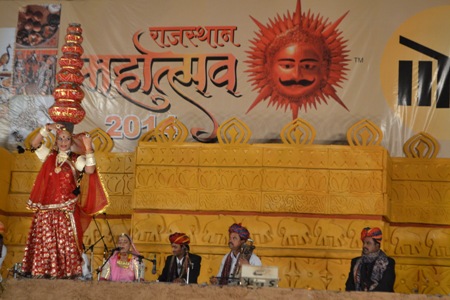 Nagpur Today: Our denizens are drawn to any place which appeals to their sense of entertainment. They are also drawn by cultural show that depicts our rich and varied heritage. Rajasthan is one such place that is rich with historical palaces, heroism, deep-rooted culture and traditions. A place that can showcase their attire, food, dance-drama and music is a definitely attractive one for the denizens of the city.
The Rajasthan Mahotsav 2014 which is jointly organised by Shri Bikaneri Maheshwari Panchayat Yuva Samiti, Marwadi Foundation and Udyam Protsahan Sanstha, Jaipur, Rajasthan is making this event a special one.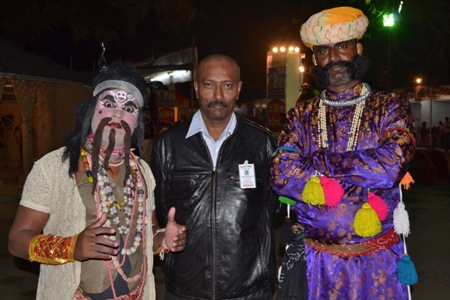 Big mustachioed men, very pretty bejeweled women clad in multi-coloured sarees, flambouyant peacock hued ghagra-cholees with mirrors and chamkees embroidered into it, with bangles made of lacquer filling the entire arm, created an aura when any one visits South Central Zone Cultural Centre on January 3, 2014.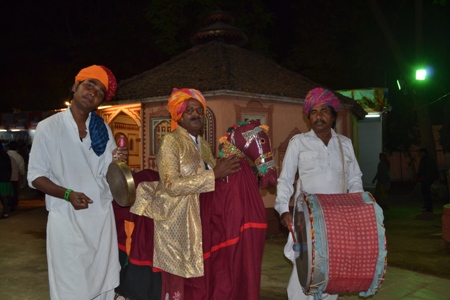 A beautiful lady decked up and depicting a typical Rajasthani lady danced to the music and songs of a group with 7 pots of increasing sizes on her head. What drew a lot of cheers and claps was when she danced with pots on her head and then climbed onto a plate and continued to dance.
Some men dressed in traditional attire and with the traditional dance form of cloth horse around them were roaming near the stalls.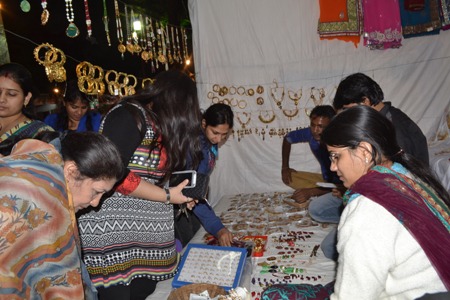 A man who was dressed and looked like a Jin Badshah (genie) said that his name was Naushad from Dosa District in Rajasthan. He said that he is decked up and having a make-up with a different look everyday. He said that he is the 7th generation of Bahurupiya. He claimed that in the olden days, they used to be dressed as Bahuripiya and entertains the Kings. Then came the time of Nat (drama) where men dressed-up and made up like women and performed different roles.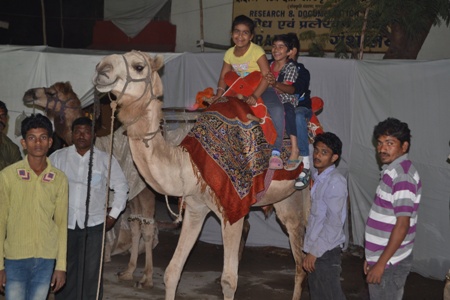 The films came next. He said that in the olden days people did not know how the Gods and Godesses (that they learn from Vedas, Mahabharat and Ramayan) looked like. So these people who were called as Bahurupiyas dressed up and made up with make-up and depicted the way the gods and goddesses looked like. This is an ancestral profession.