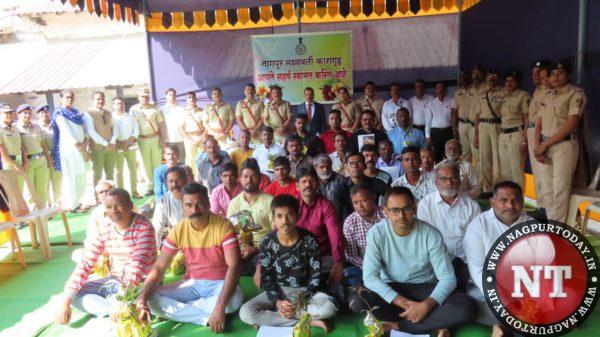 Nagpur: A total of 33 inmates lodged in Nagpur Central Jail were released on the Republic Day in a special remission to inmates as a part of 'Azadi Ka Amrit Mahotsav' to mark 75th Anniversary of India's Independence. Anup Kumar Kumre, Jail Superintendent, was the chief guest of the function. Judge Vijay Solunke, District and Sessions Court, Nagpur, Bhonde, District Probation Officer and District Women and Children Welfare Department and others were prominently present on this occasion.
Notably, prior to the release of prisoners, Nagpur Central Jail conducted special counselling sessions for them and their kin to facilitate their rehabilitation in the society. Across Maharashtra, 189 inmates were released on January 26 under a special remission programme.
Speaking on this occasion, Judge Solunke said, "Today marks the new dawn of your life. Consider the period you spent inside the prison as hospitalization and start a new chapter of your life," he advised the inmates, who walked free.
Notably, the remission scheme is intended to ensure prison discipline and good conduct on the part of prisoners and to encourage learning and better work culture with the prospect of early release from prison as an incentive.
All the inmates were felicitated on this occasion at the hands of guests. Laxman Salve anchored the programme while Narendrakumar Ahere, did the introductory remarks and Dy Superintendent (Prison) Deepa Vaibhav proposed the vote of thanks.
It is pertinent to mention that, the Narendra Modi Government has decided to give a special remission to certain categories of prisoners and release them in three phases — on August 15, 2022, (75th anniversary of Independence), January 26, 2023, (Republic Day) and August 15, 2023, to commemorate the 'Azadi ka Amrit Mahotsav'.
Around 3150 inmates are currently lodged in Nagpur Central Jail. Out of which, around 115 are women and the rest are male convicts.