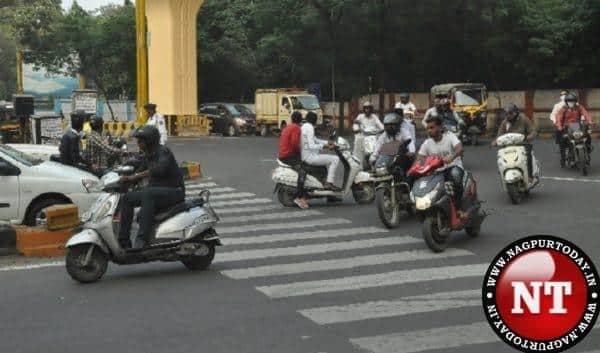 Nagpur: The Traffic Department of Nagpur City Police penalized 5,702 riders for violating traffic norms under the influence of lofty enthusiasm on 74th anniversary of Republic Day, celebrated on Thursday, January 26. Cops have also collected fines worth Rs 5.43 lakh from violators.
The 74nd anniversary of Republic Day was celebrated with flavors of patriotism across the country yesterday. The Second Capital of the State witnesses the same with tremendous cheer and gaiety among the Nagpurians. Taking advantage of the national holiday, many had planned trips and get-to-gather to mark this special day.
However, those who took traffic norms for granted were slapped challan on R-Day by the hands of traffic police.
The Nagpur City Traffic Department on Thursday penalized 5,702 drivers (mostly youngsters riding two-wheelers) for violating norms of Motor Vehicles Acts.
Under the guidance of Commissioner of Police, Amitesh Kumar, Deputy Commissioner of Police (Traffic) Chetna Tidke, traffic police personnel undertook the drive in all 10 zones and issued challans worth Rs 5.43 lakh. Prominent locations like Futala Lake, Seminary Hills, Ambazari Park, where motorists especially two-wheelers riders indulge in hooliganism every year were on police's radar.
Earlier, the Top Cop had appealed to Nagpurians to not indulge in rash and negligent driving during Republic Day celebrations.