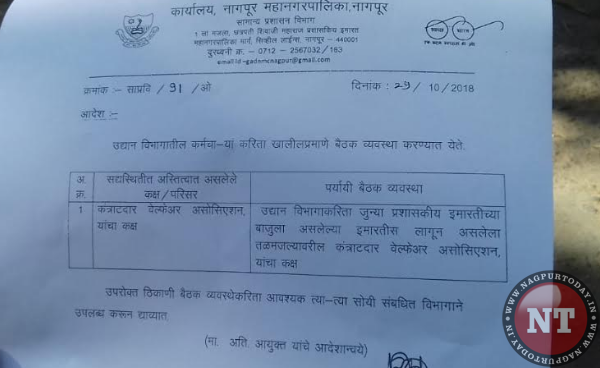 Nagpur: The Nagpur Municipal Corporation administration, fuming over agitation launched by NMC contractors for release of their pending dues, on Monday issued a fatwa and snatched the chamber and office space allotted to NMC Contractors Welfare Association. After the unsuccessful attempts to end the agitation launched by contractors a fortnight ago, the red-faced NMC administration deprived the contractors the office space in the Civil Lines office of the civic body.
It may be recalled the ruling party had enthusiastically participated in election of NMC Contractors Welfare Association a few years ago and ensured election of their 'favourite' group. All was well and managing the affairs conveniently. Things turned bad when the dues of contractors were not cleared since months. Situation turned worse the matter was raised by Opposition in Assembly during Monsoon Session. Congress MLA Sunil Kedar spoke for 30 minutes and devoted 25 minutes for exposing mess in NMC.
Now, the 15-day agitation of contractors has dented the image of NMC. An office-bearer of Contractors Association had hinted that the NMC administration might snatch the Association's chamber as fallout of the stir. It came true when the administration on Monday directed the NMC Contractors Association to vacate the chamber forthwith. The office space has been allotted to Garden Department. The space will now be the office of Assistant Engineer and Junior Engineer of Garden Department.