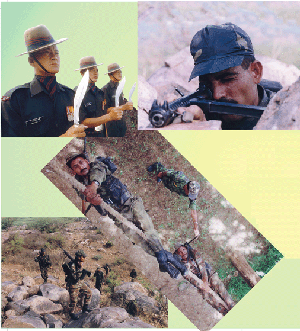 Nagpur News : 118 Infantry Battalion (Territorial Army) GRENADIERS, Fort Sitabuldi, Nagpur, will carry out recruitment for General Duty Soldier, Clerk and Tradesman Chef Community (Cook), Washer Man (Dhobi) and Hair Dresser (Barber) from 21 Feb 13 to 23 Feb 13 at Sitabuldi Fort, Nagpur for personnel belonging to the States of Andhra Pradesh, Gujarat, Kerala, Tamil Nadu, Maharashtra, Karnataka, Rajasthan and the Union Territories of Dadra and Nagar Haveli, Goa, Daman & Diu, Lakshadeep and Pondicherry. Candidates should be present at Sitabuldi Fort, Nagpur for registration from 0530 hrs on 21 Feb 13. Candidates should possess two identical photographs with all original documents of educational qualification, sports participation, job experience, trade work certificate or driving license held if any. They should also possess one set of attested photocopies of the above mention certificate. Only registered candidates will be allowed to participate/compete in recruitment rally.
CRITERIA FOR ENROLMENT : Being a part time service, candidates should be gainfully employed in civil / government / PSU / self employed and should be between the age of 18 to 42 yrs on the date of recruitment, height 160 Cms and above, Chest 77 Cms with minimum expansion of 5 Cms and above, Weight 50 Kgs and above, Character good, No objection Certificate from the employer, if the individual is employed and Education qualification for GD Soldier is 10th / Equivalent pass with 45 % marks in aggregate and 33 % in each subject will be mandatory. Dispensation Personnel hailing from border districts of Rajasthan (Jaisalmer and Barmer district. Shergarh, Osian and Phalodi Tehsils of Jodhpur district) and Gujarat (Ropar and Lakhpat Tehsil of Kutch district) the minimum qualification will be class 10th pass. For Clerk candidate should have passed 10+2/intermediate exam from any stream (Arts, Commerce, Science with English) with minimum 40% marks in each subject and 50% marks in aggrecate. Candidate must have proficiency in Computer and typing of minimum 30 words per minute. For Tradesman Chef Community (Cook), Washer Man (Dhobi) and Hair Dresser (Barber) should be 10th simple pass or above.
As this is a part time service ex-servicemen looking for employment can also get re-enrolled in the Territorial Army upto the age of 42 years. Candidates should be in possession of Original education Certificates alongwith attested Photo copy, 12 coloured passport size photographs (not attested), Domicile certificate and a photo should be affixed on residential certificate duly attested by DM/Sub Divisional Officer/DC, Non Criminal Certificate issued by Magistrate, Cast Certificate should signed by DM/SDM/DC, Character Certificate with family photograph signed by SHO of Police Station / Gram Pradhan / Police Patil / Principal of School / College (Certificate should not be more than six months old on date of recruitment rally), Ration Card / Voter Identity Card, NCC/ Computer/ Sports certificate (District/state/national) if any, Unmarried Certificate (only for candidates between 18 to 21 years only). Physical fitness Test to include 1.6 Kms run, beams, crossing of 9' ditch and balance. Selected candidates will undergo medical test. Permanent Body Tatoos are only permitted on inner face of forearms i.e., from inside of elbow to the wrist and on the reverse side of palm/back (Dorsal) side of hand. Permanent body tatoos on any other part of the body is not acceptable and candidate will eb barred from further screening.