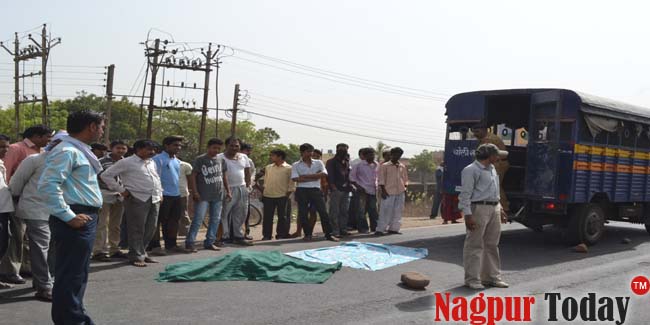 Nagpur News:
The graph of road accidents in Nagpur climbed to another dreaded peak when a fatal mishap was reported under the Gittikhadan Police Station jurisdiction.
According to police, the deadly accident involving a couple occurred opposite  Palloti  Churchon  Mankapur Road in Gittikhadan in the morning. One Chamanlal Pandram, a resident of Jagdish Nagar, near Katol Naka, Gittikhadan, was riding a Luna moped (MH-31/CF 1987) with wife Jaya (30) as pillion rider. Suddenly, a truck laden with sacks onions and potatoes hit them with a great force. The impact hurled both Chamalal, and his wife Jaya into the airs and both crashed onto the road with a thud. The speeding, and uncontrolled truck crushed both of them under its wheels injuring Chamanlal and his wife seriously. Unfortunately, Jaya died on the spot in front of Chamanlal who witnessed the gory death of his wife. Truck driver fled spot with his truck fearing a severe backlash from the people.
Chamanlal was rushed to Mayo Hospital by the people were present at spot where he is battling for life. A large crowd of onlookers gathered at spot and one of the citizens informed the Gittikhadan police who immediately rushed to the spot. They sent the body of Jaya to Mayo Hospital for post-mortem.
The police have registered an offence against the absconding truck driver under sections 304A, 279,338,337, 184, 134 and 177 of IPC and also have launched a manhunt to nab him.