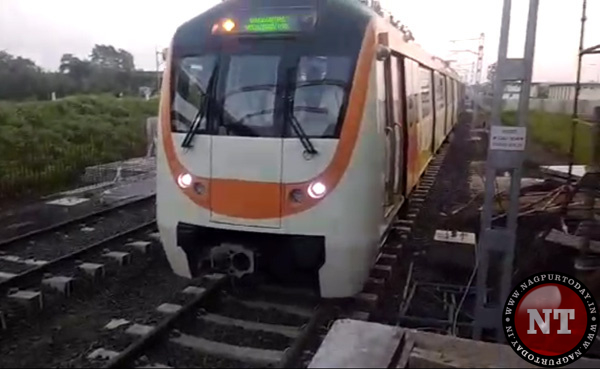 Nagpur: "Nagpur Metro is designed to run at 90 KMPH, becoming the fastest metro in the country. We are trying out a number of firsts where it comes to 'Majhi metro' – things that have never been tried or done before. This entails trial runs adjusting different systems together. Some half baked stories emerge during this period and are spread around like the gospel truth" said Dr. Brijesh Dixit in an amused tone.
"The 'news' about Nagpur Metro running at 25 KMPH that is doing the rounds in some sections of the media is one such incomplete story" Dixit went on to say.
He clarified with the following facts:
The coaches for Nagpur Metro are being manufactured at the China Railway Rolling Stock Corporation, CRRC, which beat other contenders to bag the contract to make 69 coaches for N.M. (They competed with companies like BEML and Titaghar Wagon to bag the tender.)
CRRC, in fact has the capacity to design and make locomotives and rolling stock, including electric locomotives, diesel-electric and diesel-hydraulic locomotives from 280 kW to 10,000 kW for mainline and shunting duties;high-speed trains of speed over 350 km/h; DMUs and EMUs for urban transportation have been designed by them.
The design of the Nagpur Metro coaches will be unveiled by them next week, go into production soon after and be made available to Nagpur Metro in September 2018.
"But while the coaches are being manufactured we decided to 'borrow' some coaches from Hyderabad Metro, which is also a FIRST in Indian Metro history. Till these borrowed coaches are being incorporated by us into our system they will be run at a slower speed of 25 Km/ hour for a very short period only.
Later, these Hyderabad metro coaches will also be run at our slated speed of 90 Km/ hour. "
As soon as the CRRC shop floor comes out with the unique design of our Metro/ Majhi Metro, Nagpur Today will be among the first to present it for our readers!
—Sunita Mudaliar, Executive Editor, in conversation with Dr Brijesh Dixit, M.D. Maharashtra Metro.