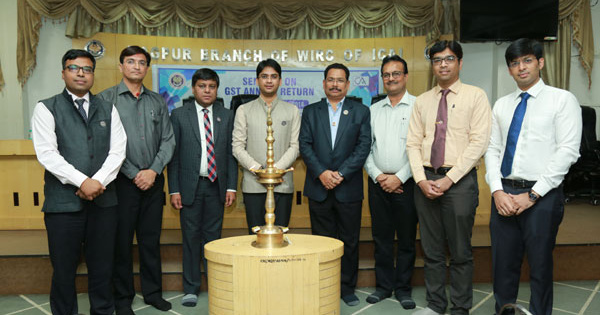 Nagpur: Nagpur Branch of the Institute of Chartered Accountants of India has organized a seminar on GST Annual Returns at Nagpur recently. The government has come up with the forms for Annual Return and Audit under Goods and Services Tax for the financial Year 2017-18. Annual return is essentially consolidation of information that taxpayers have been filing via summary return form 3B.
On this occasion CA. Vishnu Agrawal Immediate Past Chairman, WIRC¸ said that the real potential of GST would be realized in the next year. He was speaking as the chief guest of the seminar. He further remarked Chartered Accountants are known as the strongest and most hardworking professional community in the country.
He however cautioned the members that in future CA's are expected to perform their duties in a more stricter framework and therefore one should take up assignments only when where there is full knowledge of that particular subject. He also appealed the members to increase their networking skills amongst the fellow members and share the benefits of practice for faster growth.
CA Agrawal commented that with onset of new taxation regime, lots of opportunities are being created for Chartered Accountants but members should ensure they do not indulge in only compliance practices for their clients but also give analytical and consultancy services at the same time.
CA. Umang V Agrawal, Chairman, Nagpur Branch said that there are multiple challenges that have come infront of profession. Proper planning and correct professional advice is of utmost importance for continuing our supremacy as Partners in Nation Building. He requested the members that with new opportunity in form of GST audit has come for Chartered Accountants, everyone undertaking such assignments should carefully go through the entire form and report as per Act as well as per the intent of the government behinf introducing such audits.
CA. Ritesh Mehta and CA. Prateek Gupta explained the various provisions of GST Annual returns and the TDS/TCS provisions under GST Act.
The program was coordinated by CA Sanjay Agrawal while CA. Saket Bagdia gave formal vote of thanks.
Prominently present on the occasion were CA. Suren Duragkar, CA. Jiten Saglani, CA Rajesh Agrawal, CA Pankaj Deshpande, CA. Akshay Gulhane, CA. Swaroop Bhusari, CA Monika Rathi and over 150 Chartered Accountants from the city.