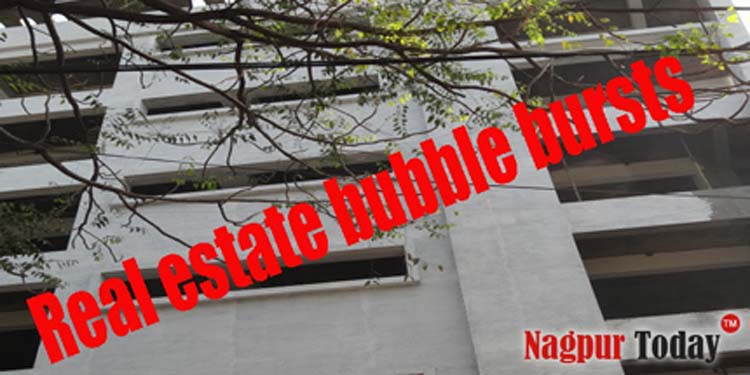 Nagpur News : It was not long before the hype regarding real estate boom was created in Nagpur market, rocketing the prices to historical high in the backdrop of hullabaloo over Mihan. Large number of properties were bought and sold in the name of upcoming Metro Nagpur, which is yet far from realization. Millions of rupees were made in short span of time. But the effervescence seems to be fizzing out at present with large number of projects coming up on the outskirts of the city being economically prized to fit to the middle class budget size. Even though most of the residential projects are ready for possession but have remained half sold awaiting the desperate arrival of real buyers. For many real estate projects, situation has gone from bad to worse as most of the medium and small developers are badly debt ridden for no liquidity flowing in for quite some time. Even few of them are seemingly vanished from the scene. Be it Besa, Beltarodi, Jamtha, Umred road, Borgaon, Jamtha, Chinch Bhuvan, Hingna road or Butibori, the slowdown has infected all the areas except for few projects within city limits and that too are costly enough to keep away the middle class buyers.
Surprisingly, the property prices on the city outskirts have remained stagnant for the past 19 months. Most of the buyers who purchased the properties at these places a couple of months back have clearly failed to fetch the appreciation and are finding it hard to resale their assets. The reality check across series of projects being developed beyond city limits tells the entire saga.
In a shocking revelation, Nagpur Today has found the developers trying all means to sell their holdings by any way possible. It was learnt that most of these developers are using media tools to create artificial hype in the property market. The rates generally quoted through media stands nowhere to reality and are projected as much more hiked.
Ajay Jaiswal, Managing Director of Ashtavinayak Planners and Builders minced no words while accepting this fact. He said due to the prolonged government procedures in getting the project sanctioned, the construction which normally takes 2-3 years for completion often gets done in 4-5 years, backing the builders off his commitment to deliver the product in time. Builders are forced to run from pillar to post for obtaining necessary approvals in the absence of single window clearance system in the government machinery. And this result in further delay which invites negative sentiments of buyers towards real estate investment. Indicating the snail pace of Mihan, he said, "The base on which the real estate balloon was blown out of proportion has lost its ground, and with the Mihan hype tasted reality, it severely crashed the property market," he quipped.
Jaiswal said that his company is desperately planning to shift focus on cities like Pune,Indore,Aurangabadand Nashik where there are greener pastures and suitable atmosphere for real estate.
He said that at present it has gone out of capacity of builders to sell their products at the cost of Rs 2200-2300 even when the production cost has gone as high as Rs 2000 owing to the rising prices of cement, iron and sand, and also the cost of labour.
Jaiswal pointed out that the major drawback that Nagpur property market faces at present is that the city is devoid of future trading and hence fail to yield satisfactory returns both for the sellers as well as the buyers. He however said that during the major slowdown when property market was hit nationwide, the prices in Nagpur did not fall but remained stagnant even as the developers in cities like Mumbai, Pune and Bangalore offered discounts up to 12% on their sale.
On the contrary, everyday newspapers in Nagpur are  shown running advertisements of various real estate developers offering residential apartments in the price band of Rs 11 lakh to Rs 17 lakh. Insiders informed that even selling plush apartments at these prices have become too hard, given the growing competition and diminishing real buyers. Most of them even offer heavy discounts, as much as 35%, to attract one time down payment.
A reputed builder having under construction projects at several places on the city boundaries revealed on condition of anonymity that the property sale was expected to improve this festival season but it registered an all time low on the sale meter. Property market is being badly hit with the increasing number of projects and decreasing buyers. He said when people read about the surging property market in the media they tend to divert towards buying but this tactic too seems to be losing its effect as the buyers know the situation.
Another real estate market expert said, "It's like once-bitten-twice-shy situation for buyers who had been fooled by agents and touts who had mushroomed in big numbers after the outbreak of Mihan phenomenon. Even though nothing substantial was being developed in Mihan segment, all talks and no concrete structure seems to have nailed the coffin for real estate." Now only needy buyers tend to indulge in investing, he added.
VAT added to the woes
Rajendra Mandaviya, a partner in Green Space Infra which ventured into commercial township projects this Ganesh festival with their first project on Ghogli-Shankarpur road near Besa agreed that lack of basic amenities have affected the sale, though low cost housing between the range of 11-15 lakhs still have great demand. He admitted that Nagpur ranks quite low in terms of supplying  infrastructural development. "Leave alone the city outskirts even the roads in so called posh locality like Ramdaspeth seem like congested lanes," he said adding that recent problem of recovering 1% VAT and 3.09% service tax on property sale has only played fuel to the fire. Most of the buyers are running out of their budget with this development and back off from buying properties, be it plots or flats, he said.
90% projects outside city not sanctioned
Mandaviya indicated that another hurdle that has restricted buyers from investing in property is the lack of proper sanction to various residential and layout schemes. He said that almost 90% residential projects cropping up outside city limit have taken permission of gram panchayat whereas the new circular says that the properties falling within 25 kms of city should be brought under Nagpur Improvement Trust for approval. Most of the developers have operated in clear violation of this fine line contributing to the crawling sale.