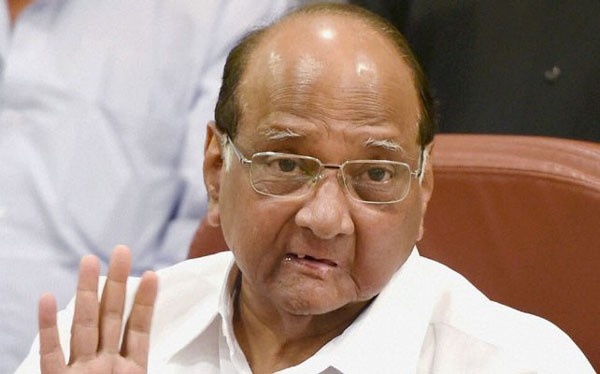 New Delhi: NCP chief Sharad Pawar on Tuesday said the Reserve Bank refused to accept old currency notes having face value of Rs 112 crore deposited with some District Central Cooperative Banks (DCCBs) in Maharashtra post demonetisation and instead asked the banks concerned to show them as "loss".
Pawar also said he held at least four meetings with Union Finance Minister Arun Jaitley and officials of DCC banks in Delhi to find a solution, but nothing came out of them.
The veteran politician said he had suggested these banks to approach the Supreme Court on the issue.
Invoking the alleged Rs 11,400 crore scam in Punjab National Bank, Pawar said not accepting the scrapped bank notes shows the government's treatment to farmers' money.
"Farmers are not Nirav Modi (the billionaire diamnataire who is the main accused in the PNB scam)," he said.
"As per my information, Rs 112 crore is stuck with some district central cooperative banks in Maharashtra, which RBI has refused to accept and exchange with new notes. The RBI has asked the banks to show it as their loss," Pawar told reporters.
After Prime Minister Narendra Modi announced demonetisation of Rs 500 and Rs 1000 currencies in November 2016, such notes were deposited in large numbers with DCCBs, located mostly in semi-urban and rural areas.
However, the Central government later announced that it won't accept or exchange the notes deposited with the DCCBs claiming that their source is suspicious.
Some of these banks are located mainly in Pune, Kolhapur, Nashik, Wardha, Yavatmal, Ahmednagar and Amravati, Pawar said.
The former Union agriculture minister said it was a similar case with cooperative banks in Gujarat and Karnataka as well.
"I am aware of a similar problem being faced by cooperative banks from Kerala, Tamil Nadu and Uttar Pradesh but I am not personally in touch with them over the issue," said the NCP supremo.
Pawar said he had suggested such banks to approach the Supreme Court and that senior Congress leader P Chidambaram has agreed to take up the case.
When asked whether he saw any political reasons behind the apex bank not accepting the scrapped currencies, Pawar said, "I am not bringing any politics into this issue".
In an apparent dig at the government, Pawar said he did not want to hurt a "savkar" at the moment.
Most of the cooperative banks in Maharashtra are traditionally controlled by Congress and NCP leaders.
Pawar said these banks have followed strict Know Your Customer (KYC) norms for at least four times.
"Despite so many rounds of verification of account holders and their money, the RBI and union government is not keen on accepting these notes. It shows the treatment of the union government towards farmers' money. The farmers are not Nirav Modi," he said.