Mahadayi Dispute: Shiv Sena says Amit Shah acting like kangaroo court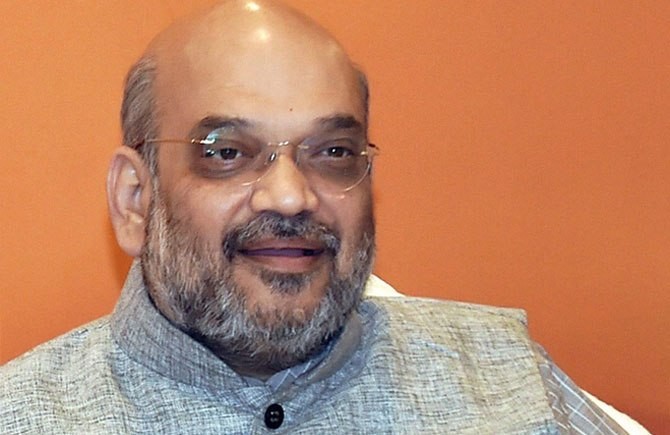 Mumbai: In a stinging attack on Amit Shah, who has promised a solution to the long-standing Mahadayi river dispute, the Goa unit of Shiv Sena said today the BJP president was acting like a "kangaroo court" and "delivering a verdict" on the issue without any authority. Addressing a press conference in poll-bound Karnataka yesterday, Shah had said the BJP would solve the Mahadayi river water sharing dispute between Goa and Karnataka if voted to power.
"Shah's statement is completely against the wishes of Goans and he seems to have taken us for granted. We have to know who has given the authority to Shah, who belongs to Gujarat, to decide about our water," Sena spokesperson Rakhi Prabhudesai Naik said. When the Mahadayi Water Dispute Tribunal is already hearing the petition, how can Shah act like a "kangaroo court and give his verdict?" she asked. A kangaroo court is a court without judicial powers which conducts unfair trials in disregard for law.
"We are strongly against the diversion of the Mahadayi river water as it would adversely affect our life in Goa. The entire State has been unanimous in its opposition to the diversion. Under these circumstances, Shah is merely bluffing the people of Karnataka," said Naik. The Sena is part of the ruling coalitions led by the BJP at the Centre and in Maharashtra. However, the Uddhav Thackeray-led party has been sulking over what it calls "unfair treatment" meted out to it by the BJP, and routinely takes potshots at its leaders, including Prime Minister Narendra Modi, and Shah.
Karnataka, which has been locked in a bitter feud with Goa on sharing the river water, is seeking release of 7.56 tmcft water for the Kalasa-Banduri Nala project. The project is being undertaken to improve drinking water supply to the twin cities of Hubballi-Dharwad and districts of Belagavi and Gadag. The dispute, pending before the Mahadayi Water Disputes Tribunal, has become a major political issue in Karnataka ahead of Assembly elections. Congress President Rahul Gandhi had yesterday asked Prime Minister Narendra Modi to call a meeting of the chief ministers of three riparian states–Goa, Karnataka, and Maharashtra–to solve the Mahadayi row. Naik said Sena leaders, including Maharashtra state minister Dipak Kesarkar and party MP Sanjay Raut, have whole-heartedly supported Goa "in its fight to save Mahadayi from being diverted".
"The Sena is the only party whose national leaders are standing behind Goans. While BJP leaders are openly slaying Goa's interest, Congress leaders are silently supporting the diversion. National leaders of the Congress party have not uttered a single word opposing diversion of the river water," she said. Referring to Shah's remarks, Naik asked BJP leaders from Goa to make their stand clear on the issue. Goa Chief Minister and BJP stalwart Manohar Parrikar had last December written to Karnataka BJP president B S Yeddyurappa, conveying to him that he was ready to spare Mahadayi water for the southern state for drinking purposes. The letter was dismissed as an electoral gambit by Karnataka Chief Minister Siddaramaiah of the Congress who questioned the locus standi of Yeddyurappa on the issue.