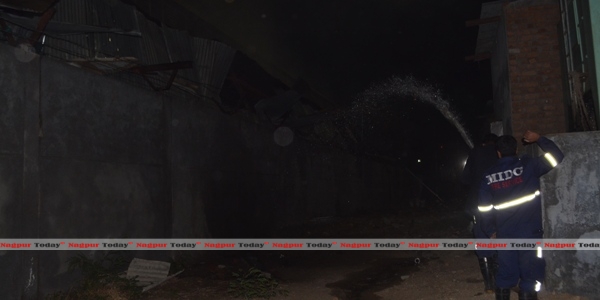 Nagpur Nagpur.
The fire at Lucent Engineering premises at Plot No J-10 &11 in MIDC is still smoldering and fire rages on in the very ignitable raw material used by the factory to compress the material (like saw dust) which is used instead of coal in blast furnaces in various steel factories in the MIDC area.
When Nagpur Today visited the factory at 11:00 pm on February 20, 2014, the fire was still on. The management of the factory had pressed a JCB to drag out some of the material which is still on fire so that the fire tenders can extinguish the fire and the remaining material could be saved.
Sources in the factory said that nearly Rs 1.5 crores worth of raw material has been gutted in the fire.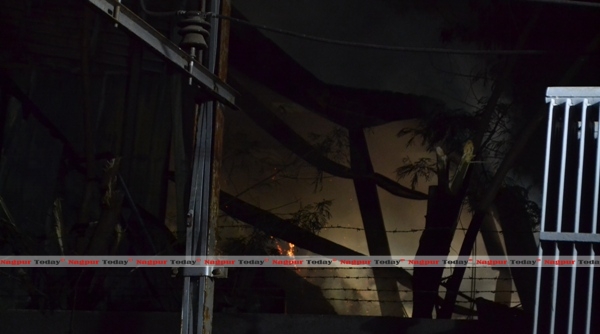 The entire MIDC Police machinery was active at the spot to prevent any untoward incident and to prevent the fire from spreading to neighbouring factories. In the morning at 3:00 am when fire was in fool bloom, the flames had shattered the glass panels of the neighbouring factory which has a plastic thread (which again in ignitable material) manufacturing unit.
PI Patil, Head Constable Papu Yadav, Head Constable Sunil Thawkar, Constable Sunit Gujar were present at the scene to ensure no untoward incident occurs and to monitor the fire extinguishing operation.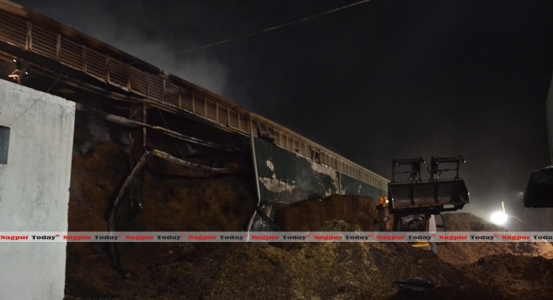 The Chief Fire Officer of Nagpur Fire Department Uchke had visited the site at east thrice and had given directions to extinguish the fire. Assistant Fire Officer (AFO) of MIDC Fire Brigade In-Charge B L Patil and his staff and Fire Brigade personnel from NMC , AFO Barde, AFO Bhoyar of Narendra Nagar Fire Brigade, Fire Department Personnel of NMC Fire Brigade Gotmare, Patil, Khapekar, Ratnaparki and Dange were very actively trying to douse the fire.
The fire department had attempted to remove some of the corrugated tin sheets covering the sides to let fire tenders pump water into the fire.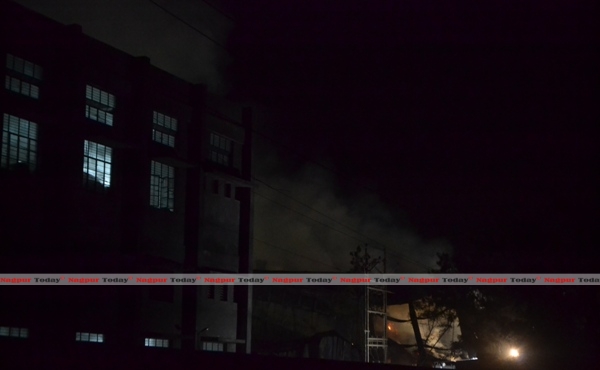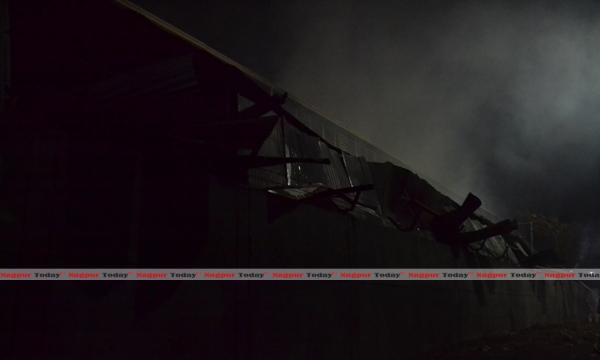 The heat that was emanating from the fire was preventing the workers of the neighbouring factory, said the plant manager present at the site. He added that the water was sprayed from the roof of their company to douse the fire.
One AFO said that it is very difficult to douse the fire and if the behaviour of the continues in the same manner, the fire will be doused only when 90 per cent of the raw material is burnt to ashes.