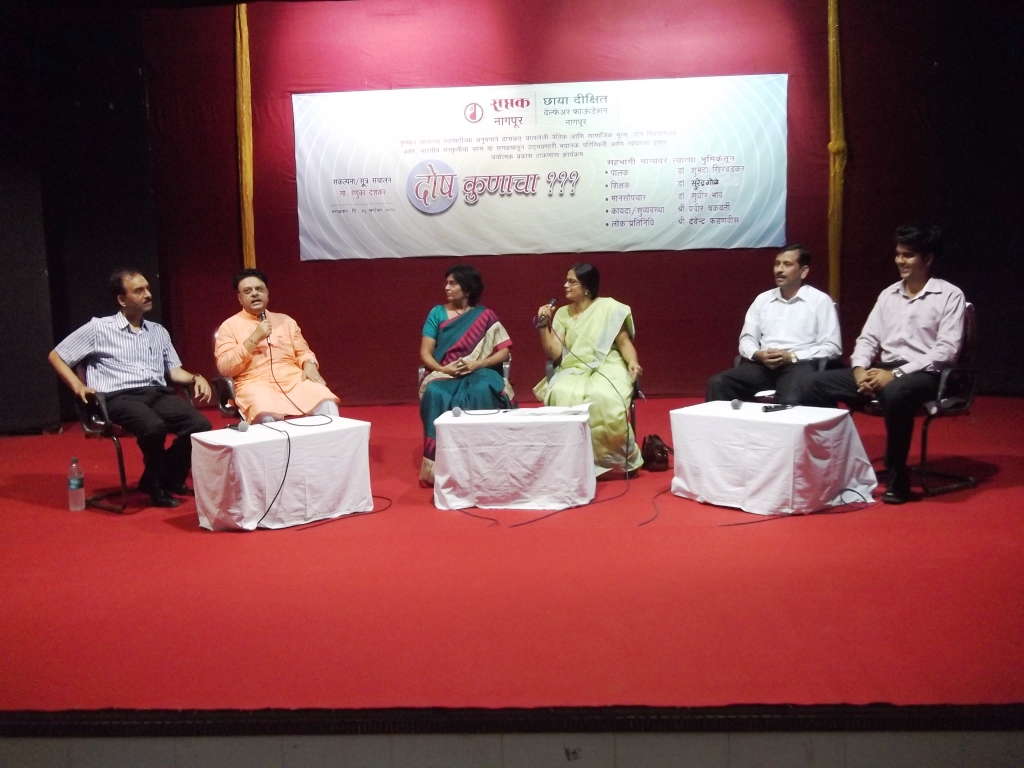 Rave Party Symposium Saptak and Chhaya Dixit Welfare Foundation had organised a symposium on Rave party – who is responsible?' at Scientific Society Hall, Laxmi Nagar at 7 pm on September 25. Dr Shubhada Khirwadkar, Vedprakash Mishra, Dr Sudhir Bhave, Prabir Chakraborty, Surendra Gode (Teacher) ,Devendra Fadnavis (Lok Pratinidhi) were present.
Parents should establish positive communication with their children and make them aware about "lines of Control" in every walk of life, opined the panelists of open discussion " Dosh Kunacha" (Whos's responsible). Saptak Foundation have jointly organized open panel discussion against the backdrop of spurt in "Rave party Culture" in cities like Pune, Hyderabad, Bangalore,Nagpur etc.
Dr.Shubhada Khirwadkar represented parents while Dr.Surendra Gole participated in the Discussions as representative of teachers whereas Dr.Sudhir Bhave discussed psychological aspects while former additional Director General Of Police Prabir Chakravarty discussed the legal aspects, Nishant Nilawar.
A Student of VNIT represented Students mentality, and he blamed the changes in education system and family cultures for rise in rave party culture. He further elaborated in Nuclear family system, there is no one to spend time with children. This is the only reason children feel isolated. Parents keep their children busy in coaching, Studies or in other classes. They also give more pocket money to their children to spend liberally and are the reasons of rising in rave party.
Dr Sudhir Bhave asked parents to analyses the requirements and desires of their childrens. He stressed on counseling. Parents should be good counselors of their children's. Parents should also make children aware about the liberty and responsibility.
Open Discussions expressing views quietly and under standing children correctly are the solutions to control rave party culture, he added. Prabir Chakravarty expressed a concern over changed attitude of parents. He said that the parents of Youth detained by Police in Rave Party raids were seen more concerned about their release on bail than the moral values required to taught to them. Renuka Deshkar had Co-Ordinated the all over discussion as a mediator between them