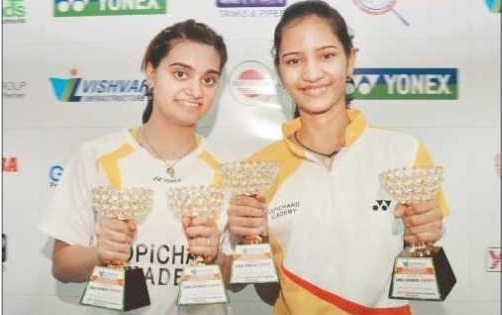 Nagpur News.
Top seed Rasika Raje (Nagpur) toppled the second seed Vaishnavi Iyer (Greater Mumbai) in the finals of U-19 Girls Singles of the ongoing second Vishvaraj Maharashtra State Selection  Badminton Tournament being held Subhedar Hall on Saturday.
Vaishnavi Iyer, who lost to Rasika, could not produce the same skillful performance as in Quarter Finals against her opponent.  Rasika Raje-Ahillya Harjani pair clashed with Vaishnavi Bhale- Vallari Bukane and won in the U-19 Doubles Final.
Chirag Shetty celebrated his victory by winning both the U-17 and U-19 boys singles finals.
In under-17 girls singles section, Karishma Wadkar defeated Kalpita Sawant by 21-10, 11-1 Ret.
Organising Committee members of this Tournament  were Shekhar Jadhav, Nikhil Rokde, Sumanta Tokear, Asha Mande, Ananta Apte, Anand Kasrekar, Shriram Purohit, Naresh Chafekar, and Dr. Vikas Bisne.
RESULTS (FINALS)
(Doubles)
U-19 Boys: 1- Kabir Kanzarkar and Vighnesh Devlekar (Thane) Scored 21-18 Vs Nihar Kelkar and Pauras Kulkarni ( Thane) Scored 21-18 in 16 Min.
U-19 Girls:1- Rasika Raje and Ahillya Harjani (Nagpur/Greater Mumbai) Scores 21-19 beat (Nagpur/Thane) Vaishnavi Bhale + Vallari Bukane Scored 21-18 In 25min.
U-17 Girls : 1-(Nasik/Ms) Aarya More+Pooja Devlekar Scored 23-21   Harjani +Mrunmayi Saoji (Greater Mumbai/Nagpur)[1] Scores 21-15 In 30 min
U-17 Boys : (Satara/Pune) Akshay Kadam + Vineet Kamble Scores 21-13 bt Nihar Kelkar+Pauras Kulkarni (Thane)[1] Scores 21-12 In 25 Min
(Singles)
U-19 Boys : Chirag Shetty (Ms)[2] Scores 21-8 beat (Thane) Vighnesh Devlekar[1] Scores 21-14 In 30min
U-19 Girls : Rasika Raje (Nagpur)[2] Scores 21-17 beat (Greater Mumbai) Vaishavi Iyer[4] Scored 21-11 In 30 Min.
U-17 Boys : (Ms) Sai Dinesh Reddy Scores 21-19 beat Chirag Shetty (Ms)[1] Scores 21-12 In 26 Min
U-17 Girls : Karishma Wadkar (Ms) [1] Scores 21-10 beat (Ms) Kalpita Sawant [4] Scores 11-1 Ret. In 20 Min.