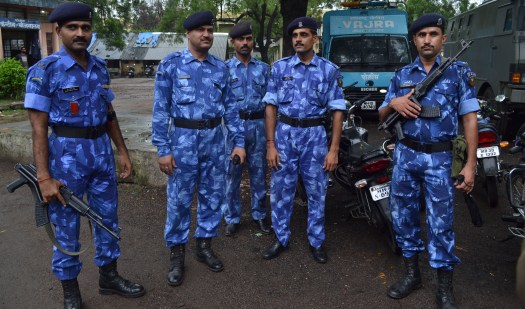 Nagpur News :
To combat possible communal tension in the city and rural areas around city, the city police will be carrying out a march with CRPF (Central Reserve Police Force) special force- Rapid Action Force (RAF) Battalion 107 of Bhopal, this week.
RAF, a specialised riot-control wing of CRPF claimed that Nagpur is ranked among 15 sensitive districts in the Central India. RAF has chalked out 15 communally sensitive areas and 13 highly sensitive areas in Central India. Besides Nagpur, Wardha, Gondia and Bhandara also tops the list of sensitive districts.
A battalion of 60 has been in the city for a week to survey sensitive areas in and around city. Addressing media persons at police information centre on Tuesday, Assistant Commandant, Devendra Saxena told that they intend to develop sense of security among people. RAF has purpose to control law and order in city which is disturbed majority during communal tension.
"We will be visiting areas under the jurisdiction of Nandanvan, Sakkardara, Tehsil and Kamptee police station areas. Through communicating with them, will try to make them feel secure in case of any communal violence in their area," said Saxena, who has also worked in Naxal affected areas with COBRA force and C-60.
Through his past experience while serving Naxal areas, he said that change of thoughts among Naxals can bring some changes in the area.
He added that CP Kaushal Pathak and senior police officers are planning about other sensitive areas in the city where the RAF battalion will demonstrate how their unit will deal with communal violence.
The battalion has last visited the two years ago. Saxena informed that as told by the government, they have to survey the sensitive districts in the lists after every two years.
"After every two years, the teams try to get acquainted with city's topography and demography, mainly in sensitive areas which will help the team to execute in case of any emergency," he said.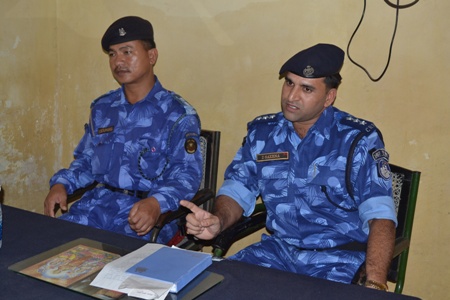 Besides demonstration, the team will be interacting with all police stations, senior officers to find out communally sensitive areas in the city. Apart from cops, the team will contact NGO's, MLAs and other religious leaders to exchange thoughts in building a sense of security among people and change their thoughts.
"One has to change his or her thoughts to control communal tension. We are also focusing to change the thinking of people," said Saxena. He told that unit has also succeeded in prompt rescue and relief operations during floods, earthquakes, in various parts of the country.
Apart from this, the unit is also chalking out the areas where emergency security could be anticipated. Hence it was essential to conduct such route march for familiarization of the area for the concerned police teams.