Rani Laxmibai Resident Sainik School, Waddhamana episode: How can hunger produce soldiers at sainik school?

Hunger forces girls to relinquish school
Irresponsible school management needs punishment for failing to keep up commitment to run the school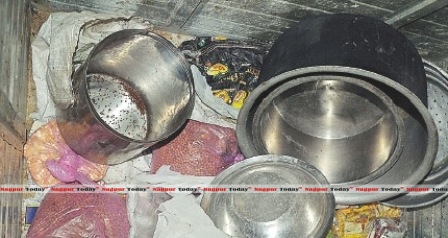 Nagpur: Many schools, claimed to be sincerely managed by private bodies are in mushroom-like growth in the state including the Vidarbha region. Their main aim, as has been pointed out in a survey report by an NGO, is not to produce students of future generation, and thus serve the nation, but to mint money to the extent as much as possible.
This is what is seemingly done by Rani Laxmibai Resident Sainik School for Girls, managed by Mahavaishnavi Mahila  Mandal Sanstha at Waddhamana on the outskirts of Nagpur city. This question is now widely asked whether the school managements ever stand true to the big and ideal names they keep for opening their schools, just to maintain a pseudo impression in society.
The said school claims to be running residential classes from 5th to10th levels for girls to inspire and train them to become eligible for Armed Forces, in order to fulfill the intention of the government which brought out in year 2005 the concept of Resident Sainik Schools for girls, perhaps because more and more women are entering all the three wings of Armed Forces as well as paramilitary forces, like, CRPF, BSF, ITBP, CISF and so on in the country.
As many as 90 girls from across Vidarbha sought admission in Rani Laxmibai Residential Sainik School, this academic session, and did get food and facilities, etc, in the beginning, but many of them left school during Pola festival, 12th and 13th Sept, 2015 and headed to their homes with the complaints to their parents that the said school did not have gas cylinder for cooking food, no proper electricity supply in their hostel due to non-payment of electricity charges, the ration in the school was finished since a month, the teachers at school have to manage food for girls from their own resources, and the school lacks basic amnenities.
According to our sources, the Social Welfare Department of Maharashtra Government sanctions a sum of Rs 15,000 per student to Rani Laxmibai Resident Sainik School management with a view to utilize the fund for maintenance of students with the purpose they are enrolled. Yet the students of the school have not been receiving admissible facilities over a couple of months, i.e., against the rules, no supply of milk to them, no breakfast, proper lunch and dinner and nutritious diet on daily basis.
Three of the girls who returned to school on Friday (after Pola) with their parents, just because their parents' condition at home was not good, they told Nagpur Today. A teacher of the school informed Nagpur Today, when he contacted the school-sanstha secretary Mayuresh Yerpude about necessary provisions for the school inmates, he was told by the secretary that he (teacher) should arrange the provisions from his own pocket and provide to the students or else he (teacher) should take the students to the social welfare department and seek money from them.
This development indicates that the social welfare department fails to supply regular funds to the school, and that is why perhaps the students do not get the necessary facilities. But, another point here is why the sanstha secretary himself hesitated to take up the issue with the social welfare department. In a sense he exhibited his irresponsibility in the cause of the students of his sanstha/ school.
It may be mentioned here that whenever any sanstha or individual seeks government permission to run any school (here, the said sainik school), he undertakes to say that he will manage the school without shortage of basic amenities and necessary facilities, without waiting to receive government grant in advance, for the grants are usually released late subject to availability on the part of the department concerned. In other words, the sanstha owner will manage all expenses on his own without allowing any discomfort to the inmates.
Now, some of students told Nagpur Today that they too would quit the school, but the problem before them is how to leave school middle of the session and seek admission elsewhere (or where?). Certain girls told very candidly how they can think of becoming soldiers if they do not get food regularly, for sometimes they get meal once a day.