Rang Utsav connected people through colours at Ensaara Metropark; celebrities and denizens of Nagpur gelled up together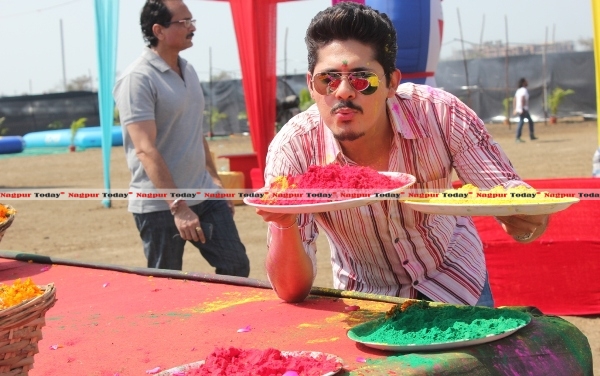 Nagpur Today.
Holi Aaii Re! Indeed they quoted! The denizens of Nagpur who were all set to get blended with the Holi Colours at the Ensaara celebration 'Rang Utsav' sure had a splendid day, a noble and dry way, to usher in new beginning at Metropark.
The water-free Holi was a remarkable one, while everyone enjoyed gelling up with each other between reds, blues, greens and yellows.
Further, to connect the people with Rang Utsav at Ensaara Metropark were present celebrity guests that included Tanushree Dutta, Vishal
Malhotra, Meenakshi Dixit, Bharat Jadhav, Yashpal Sharma, Aanjjan Srivastav, Deepak Shirke, Akhilendra Mishra, Mushtaq Khan, Upasana Singh, Virendra Saxena, Pandharinath Kamble, Indrajeet Soni and Aakash Pandey!
Tanushree was seen being a bit reserved, but dint hesitate to play with colours at all. The others enjoyed over food and holi mocktails. The day included various entertaining activities such as a stand-up comedy act by Sanjay Keni, Karaoke session by Savio D'Sa and kids were escorted to the kid's zone where they got entertained by the Cartoon Mascots and water pool areas. This glamorous, vibrant and exciting party at Ensaara Metropark grooved to the best music spun by DJ Angel throughout the day.
So a fresh start of this spring season sure was a kick start. The fun and excitement thereby got celebrated at the festival of colors by Nagpur to welcome the spring at Ensaara Metropark.
PICS BY : Vinay Thorat