Nagpur: Following a snowballing controversy over Union Minister Narayan Rane's comment on slapping Chief Minister Uddhav Thackeray for his "ignorance of the year of India's Independence", the workers of Maharashtra's ruling Shiv Sena and the opposition Bhartiya Janta Party (BJP) clashed on the streets in Mumbai on Tuesday. This act was followed by series of protest across the state with similar scenarios also seen in Vidarbha. Thus, in bid to avert any untoward incident in the Second Capital of the State, Nagpur Police deployed heavy bandobast at BJP Office in the city.
Earlier in the morning, a group of Sena workers were earlier seen throwing stones at the BJP office in Nagpur.
Narayan Rane's comments have sparked protests by outraged Shiv Sena leaders who also faces an arrest warrant after a case filed by Sena workers.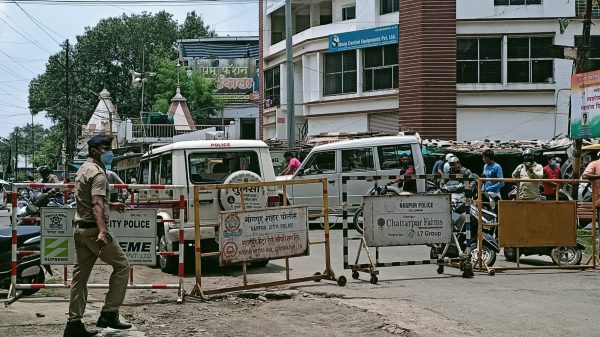 On Monday, a fight broke out as Sena members marching towards Narayan Rane's home in Mumbai, carrying flags and shouting slogans, were stopped by BJP workers. Scores of policemen tried to break up the fight outside Rane's Juhu house and even used force to separate rival workers. Stones were also thrown between two groups. Sena workers sat on the road, blocking traffic.
An FIR was filed in Nashik and the police have put out a warrant for the Union Minister's arrest. Some reports said a police team has left for Chiplun, where Rane is believed to be at present.
In Amravati too, Sena workers tried to lit BJP offices but the incident was averted following police action.