Ram-Leela : Fearless Bhansali's riot of colours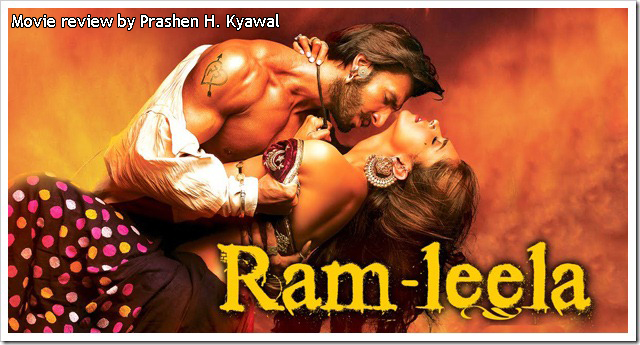 Cast: Ranveer Singh, Deepika Padukone, Supriya Pathak Kapoor
Direction: Sanjay Leela Bhansali
Every era has artists which are out the the boundaries by social norms or structures. People love them because they can think beyond imagination. Because they create something which transports you to a different world altogether and keep you wondering about the creative prowess such artists have. We wait for films by such artist for years and we wish they do not fail us. We want them to succeed because we do no want to get disappointed by them. We do not like if their creations are ineffective.
Sanjay Leela Bhansali is one such artist. His skills transcend through every media, medium and department of art. He controls every aspect of his creation and extracts the best from everyone in his team to create the world of his imagination. Sometimes we liked it, sometimes we did not. However, it was always unique and beyond imagination.
I am glad to say that even though everyone will have mixed reactions about Ram-Leela, no one will say that it is a bad film.
Produced by Sanjay Leela Bhansali with Kishore Lulla, Written by Sanjay Leela Bhansali with Garima and Siddharth, Edited by Sanjay Leela Bhansali with Rajesh Pandey having Music by Sanjay Leela Bhansali, "Goliyon Ki Raasleela : Ram-Leela" is a film directed by Sanjay Leela Bhansali.
The above line itself proves the impression and impact by SLB on every department of the film. He is just not the captain of the sheep but heads in every department as well. Having said that, all these names must be given due mention and credit because each of them has done outstanding jobs in the above mentioned departments of the film. The dialogs are intense, passionate, poetic, witty and effective. Editing is swift and sharp. Music is already making waves in chartbusters still I think it is not as long lasting as music in earlier films by SLB. I think he shall use other music directors for his films which can result is much better output.
The film starts with a sentence that it based on Romeo-Juliet by William Shakespeare. So that makes it easier for a reviewer as the story is well known. Though it is a internationally known story adapted thousands of times across the world in every language and format, I will use a one line summary I found on internet to describe it to others who do not know it. "Romeo Juliet (and hence Ram-Leela) is about two star-crossed lovers in the depths of forbidden love despite an ancient family feud."
Arguably, this can be said as best adaptation of Romeo-Juliet in Indian Context. He does it with a backdrop of Gujrat. He creates an imaginary town suffering from family feuds between Rajadi and Sanera clan whose favourite son and daughter fall in love with each other. He uses a period from holi till Dashera to set his store time frame and beautifully weaves festivals, rituals and cultural symbols in the story and visuals. Though such use has hurt feelings of few over sensitive people, we should ignore them and let artists have liberty to create art without fear.
We have seen many films earlier with such story lines where boy and girl with history of animosity between their families, fall in love. In many cases, there is a happy ending, while in many others, there isn't. What makes Ram-Leela different is one name and i.e. Sanjay Leela Bhansali.
I always yearn for movies with love stories having pain underlying them. SLB's "Hum Dil De Chuke Sanam" is a benchmark for movies which torn our heart and connects us with the pain of protagonists. I wish he recreates it in his every movie. However, artists have their own agendas and ideas to portray. Ram-Leela doesn't just dwell only on the part of passion and pain but creates an overwhelming experience for all our senses (except touch and smell) and keeps them alert and tight throughout the movie. His movies can not only be reviewed as cinema but must be looked as a piece of art. Each scene in Ram-Leela is poetry in motion. Each frame is perfectly crafted art piece. He fills our eyes with riots of colours, festival of music, hurricane of emotions and sheer force of his SLB sweeps us off our feet and mesmerises us with his story telling.
In SLB's movie the lead actors (even if they are big stars) are not important as they are just tools in his hands. Not only stars, actors but all other technicians are mere tools in his hands. SLB uses all these tools to paint a picture of his vivid imagination on the canvas of cinema. So all other names just do not matter. Because SLB chooses his tools meticulously and uses them wisely extracting the best out of each of them. Still few name deserve special mention. Ranveer Singh is first name that comes to my mind. He is incredibly good as a passionate lover and handled the post interval dramatic scenes with amazing maturity at this early stage of his career. He has done outstandingly well and surely started walking his way to superstardom if all goes well for him in future. Deepika Padukone gets another complex role to portray and she does justice to it. Both of them have steaming hot on screen chemistry and create the passion and pain in the romance perfectly. Deepika looks stunning and sensuous. Notice her in the scene where she tries to woe Ranveer Singh in the lodge after they elope. Still I missed divine beauty of Aishwarya Rai. Otherwise, a new face with unbelievable beauty and talent could've also been more effective because the young, energetic and bubbly character has such demand.
There are numerous other characters and each artist does their job perfectly. Supriya Pathak needs special mention for her portrayal of Dhankor Baa, the lady don of Sunera clan. Richa Chaddha looks beautiful and totally different than her role in Wasseypur. She does super justice to his role as Rasila Bhabhi. Gulshan Devaiah as Bhavani, Abhimanyu Singh as Meghjibhai, Utkarsh Naithani, as Karsan, Sharad Kelkar as Kanjibhai does leave an impact. Barkha Bisht Sengupta could've done better. Last but not the least Priyanka Chopra has the highlight music number with incredibly hot moves to match it.
We can not finish this review without mentioning the name of the cinematographer who has the toughest job of realising SLB's vision on celluloid. Cinematographer Ravi Varman accomplishes this mission impossible with aplomb. Another man with such difficult task in a SLB film is production design. Wasiq Khan passes in this department with flying colours. Choreography by Ganesh Acharya, Samir & Arsh Tanna, Terence Lewis & Bertwin and Vishnu Deva keeps our eye glued to the screen. Background music by Monty Sharma is apt. Sham Kaushal also shines in action department. Costume design by Anju Modi and Maxima Basu needs special mention too.
Before summing it up, we can easily say the film could've been shorter, songs better and sans the repetition and minus the Déjà vu from movies like Gangs of Wasseypure, Ishaqzade and SLB's own Devdas. Still the importance and value of this film can not be diminished. This is a new SLB who balances needs of classes and masses in a superbly crafted package. Some may not like it but most will love it. And no one can ignore it.
Rating :

Recommendation : I write this movie from AbuDhabi, UAE where it is rated as 18+. In India, to is certified U/A by censor board. However, if you are going to watch it with kids, I may warn you about intense love scenes, heart wrenching violence, shirking dialogues are at some places. However, ours Indian kids have seen worse in crap potboilers, so it's fine. If you are religiously too sensitive, do not watch and protest about the movie. Everyone else, do not leave this chance to watch this movie on big screen in the very best cinema experience you can buy. I guarantee you that it is worth all the money you will spend on it. A must watch.