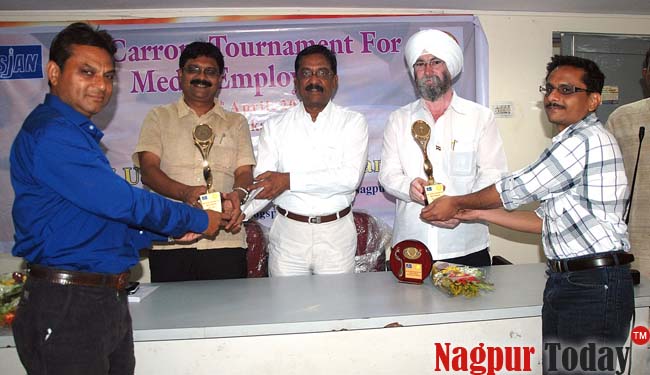 Nagpur News: Rakesh Undirwade from Gaurav Garima bt Bhimrao Lonare of Lokshahi Varta to win 6th Carrom Tournament for Media Employees
Results:
Men's singles (SF): Nilesh Doye (Punyanagari) bt Nitin Pataria (Lokmat) 11-8, 5-8, 12-10; Rakesh Undirwade (Gaurav Garima) bt Bhimrao Lonare (Lokshahi Varta) 20-0, 20-3.
Final: Rakesh Undirwade bt Nilesh Doye 15-5, 25-1.
Third place: Nitin Pataria bt Bhimrao Lonare 15-8.
Men's doubles (semi): Rakesh Undirwade- Vinod Suryavanshi (Gaurav Garima) bt Umesh Mahadeokar-Sandip Gadge (Tarun Bharat) 16-1, 12-7.
Final: Pankaj Najpande- Chittaranjan Nagdevte (Lokmat) bt Rakesh Undirwade- Vinod Suryavanshi (Gaurav Garima) 10-7, 12-3.
Director of Tirupati Urban Co-operative Bank Ltd Ramesh Borkute was the chief guest of prize distribution function. NMC Standing Committee chairman Avinash Thakre was the guest of honour. On the occasion SJAN felicitated general secretary of All India Carrom Federation Prabhjeetsingh Bachher. SJAN president Dr Ram Thakur made introductory remarks. Secretary Kishor Bagde conducted the proceedings while joint secretary Sarang Kunte proposed a vote of thanks.