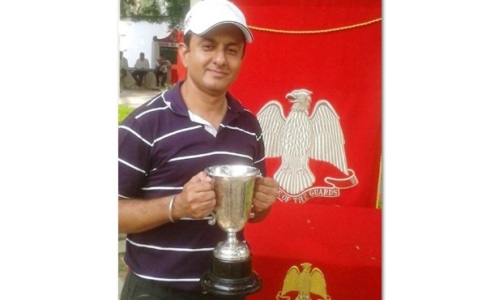 Nagpur News.
Garuda SBI Tiger Cup Golf Tournament 2013 was organized at Garuda Golf Institute, Kamptee, wherein many enthusiast golfers from the city participated.
Rakesh Bhalla was declared winner of the cup with Stable Ford score of 42, while Dinesh Agrawal was runner up score of 36.
Best net winner of the tournament was Group Caption A. K. Upadhyay (68), while runner up was AVM J. V. Singh (73), while under Gross category winner was Col. Anil Vishnu Akulwar (86) and runner up was won by Ajit Ingole (88).
Maximum Pars winner was Tejinder Singh Renu (7 pars & 1 Birdie), while Pranav Mardikar won maximum Birdies prize.
Longest drive with a distance of 276.70 meters was won by Group Caption LVS Ramesh, while runner up in longest drive was won by J. S. Gill (270.40 meters).
Col. Daljeet Singh won closest to pin award, while runner up was Jayant Darvekar. Closest to Centre Line prize was won by I. M. Mehta and runner up was Luv Bajaj.
In veterans' category played over 12 holes, Wg Cdr (Retd) S. K. Ketkar was declared winner in Stable Ford category with a score of 14, while runner up was Lt. Col. (Retd) Mrigendra Singh. Maximum Pars was clinched by Ardman Singh, while longest drive was won by Amarjeet Singh (233.50 meters).
Putting competition was held amongst ladies, wherein the winner was Anjali Wasade and runner up Jyoti Singh.
Prizes were distributed at the hands of Brigadier Satish Wasade, Commandant of Guards Regimental Center, Kamptee.