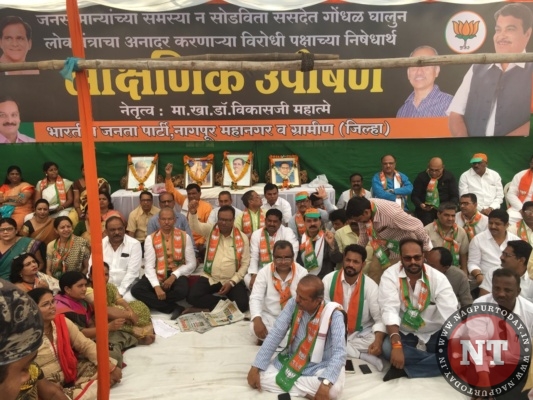 Nagpur: In a tug of war between Congress and BJP in terms of staging demonstration, the latter has on Thursday responded to former's hunger strike agitation observed three days back. The BJP has this time targeted Opposition for hampering Parliament proceedings. Right from Prime Minister to Union Ministers and Members of Parliament from BJP has staged symbolic protest against overtures of Opposition Congress. In this series, Rajya Sabha MP Dr Vikas Mahatme also observed hunger strike on Thursday at Samvidhan Square here. Various BJP MLAs, corporators and party workers participated in the agitation. The leaders shouted specially created slogans to target Congress.
Dr Mahatme has held Congress for creating hurdles in smooth functioning of the House. He said Congress has not evinced any interest in discussion despite the readiness by the government to do the same.


As many as 40 bills are pending which are required to be passed in national interest, he said, adding that the Opposition's acts have been putting the country to loss in crores of rupees. The Opposition is out to waste public money to settle its own political agenda, he said.
During the agitation the audio of Prime Minister Narendra Modi's speech was also played on the occasion.