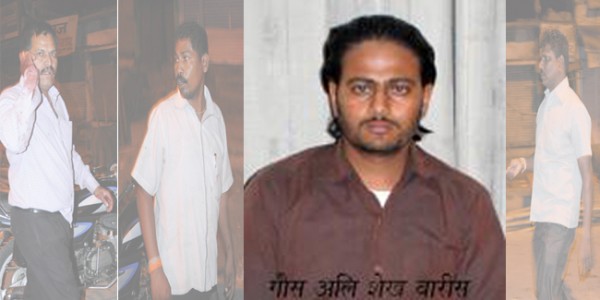 Nagpur News:
The dreaded goon Raja Ghous has started spilling the beans following a red-hot grilling by Crime Branch of Nagpur police. The history-sheeter is opening all the chapters of his crime history and, has confessed firing bullets on a student Roshan Samarit in Untkhana area near Medical College Square. Roshan succumbed to bullet injuries while being given treatment at nearby Government Medical College and Hospital (GMCH) sometime later. Raja Ghous also divulged the information that during firing on Roshan, his close accomplice Satyendra Gupta was present and was seated on his motorcycle.
POLICE REMAND TILL JUNE 7: The Police Inspector of Crime Branch Madhav Giri said, Raja Ghous was nabbed in Lakhimpur town of Uttar Pradesh after vanishing from Nagpur. He was produced in the court which had remanded to police custody from May 30 to June 5. However, since Raja Ghous was involved in a dacoity case for which he was arrested by the Yashodhara Nagar police, the matter is pending in the court, the police again produced him in the court after completion of his remand on June 5. The court again remanded Raja Ghous to police custody till June 7.
PI Madhav Giri said, Raja Ghous informed them that he had teased Roshan's girlfriend while riding the motorcycle, who angrily reacted to Raja's ugly actions, and asked him to stop. The girl also apprised Roshan about the actions of Raja. When Roshan arrived at the spot at about 7.30 pm, he exchanged hot words with Raja. Unable to tolerate Roshan's words, Raja fired two bullets on Roshan injuring him seriously and fled from the spot. The incident occurred on May 17. Raja Ghous on a run, again indulged in a grave crime by firing on Constable Battulal Pande and his team, all attached to Nandanvan Police Station while riding on the motorcycle at Jagnade Square. However, police had succeeded in arresting Raja's close accomplice on Moin Ansari. Another key Raja Ghous aide, Satyendra Gupta, is still eluding the police dragnet and the police have launched a massive hunt for him since the incident, Giri added. The trio, Raja Ghous, Moin Ansari, and Satyendra Gupta, had fired bullets on Battulal Pande and four other policemen at abot 10 pm after committing the firing of bullets on Roshan at Medical Square.
After the two incidents of crimes, the entire Nagpur police force traversed and raided many places in the whole night to arrest the trio but only succeeded in nabbing Moin Ansari. However, the Nandanwan Police Inspector Sunil Jaiswal got secret information on whereabouts Raja Ghous and Satyendra Gupta. Accordingly, PI Jaiswal laid a trap at Lal Godam near Rural Police HQ on Nara Nari Road. But the dreaded goons, making the young boys and girls skating as human shields, again fired bullets thus succeeded in giving a slip to police again.
However, Raja Ghous could not hid himself from strong and long hands police and was, finally, nabbed from Lakhimpur town in Uttar Pradesh at nick of the time as Raja was planning to cross over Nepal. But, instead, crossed over to police trap and cooling or heating the heels in Nagpur police custody.