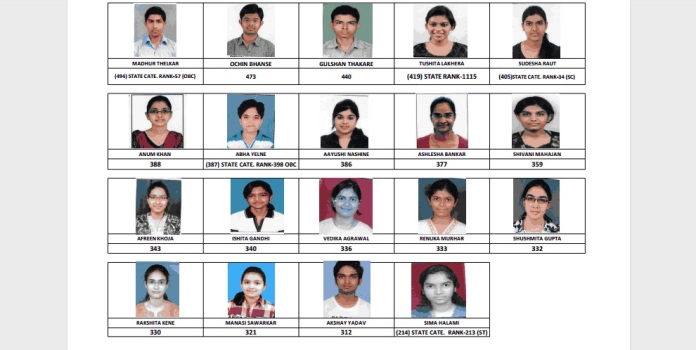 Nagpur News:
Dr Babasaheb Ambedkar College, Deeksha Bhoomi, Nagpur which had carved out an excellent performance in the HSSC examination with its students topping the results, again repeated its outstanding feat in the NEET result. The NEET is for medical admissions in various colleges.
In the result of NEET,  Madhur Thelkar by scoring 494 marks (percentile 99.2159) with state rank of 329 and all India rank of 5104 has topped from the college. His OBC rank is 57.
Oshin Banse, with 473 marks stood 7th in state ranking and 83rd in all India ranking from the SC category. Gulshan Thakre with score of 440 and HSSC topper from the city Anum Khan, with score of 388 marks are among the other long list of achievers.
Hon'ble Shri R.S. Gavai, Ex-Governor of Kerla, Sadanandji Fulzele, Secretary, Param Poojya Dr. Babasaheb Ambedkar Smarak Samiti, Nagpur, Dr. R. Krishnakumar, Vice Chancellor, YCMOU, Dr. Malati Reddy, Principal, Dr. Ambedkar College & Prof. V. B. Varangaonkar have congratulated the successful students, said Principal, Dr. Mrs. K.M. Reddy in a press release.