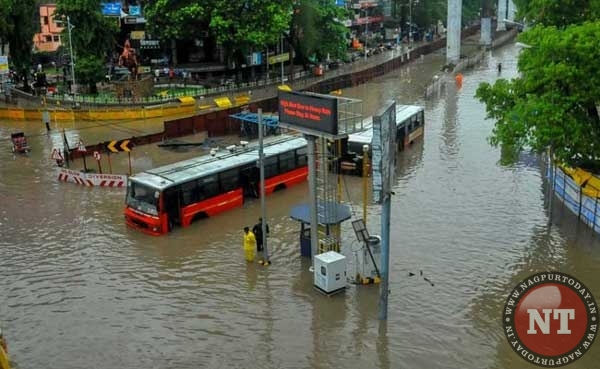 Nagpur: Even as the rains threw life out of gear on Friday, it also dealt a blow to the passengers travelling by trains.
At least 15 trains were reportedly running late from 1 to 4 hours. The delay was on north-south as well as east-west route. The telling delay left the passenger stranded at the railway station for hours on end..
Sources heavy downpour had inundated railway tracks at all the platforms. "The tracks were submerged under three-feet water level till evening. Hence, trains were admitted cautiously. This delayed mail/express trains. Some trains were stopped at outer signal and roadside stations," said sources.
The trains hit by rains include Pune-Nagpur (1.5 hrs), Yeshwantpur-Gorakhpur (2.30 hrs), Lucknow-Chennai (2.20 hrs), Ahmedabad-Nagpur (3 hrs), Kanpur-Kacchiguda (2.30 hrs), Mysore-Jaipur (2 hrs), Tatanagar-LTT (2 hrs), Chennai-Delhi GT (2.30 hrs), LTT-Shalimar (1.35 hrs), Ahmedabad-Puri (3.15 hrs) and Ahmedabad-Howrah (2 hrs).
Sources reported that the open space outside the station building was flooded and passengers coming out of the station faced great difficulty moving with their luggage. Passengers were fleeced by auto drivers who charged heavily taking advantage of rain. Cabs were also not available in quick succession.
Rains also hit MSRTC operations and almost 40% of services in Nagpur division were affected. For private bus operators, it was business as usual. "We operate limited buses and on long routes. Hence, rains did not affect our schedules," said private bus operators.
MSRTC divisional controller Ashok Warthe said, "Buses from Umred and Ramtek were worst affected with 75% services getting delayed or cancelled because of flooded roads. All schedules towards Wardha, Chandrapur and Yavatmal direction were hit due to flooding of river near Butibori and blocking of Wardha road in the city."
Warthe said, "We operate around 1,200 trips from Ganeshpeth main bus stand. Though exact figures are not available, about 900 trips could be operated." Ganeshpeth bus stand depot manager Vijay Kude said traffic was partially affected from 1pm to 4pm, after which water receded and normalcy was restored. "No damage to any bus or accidents were reported as traffic was stranded due to overflowing rivers and nullahs," Kude added.