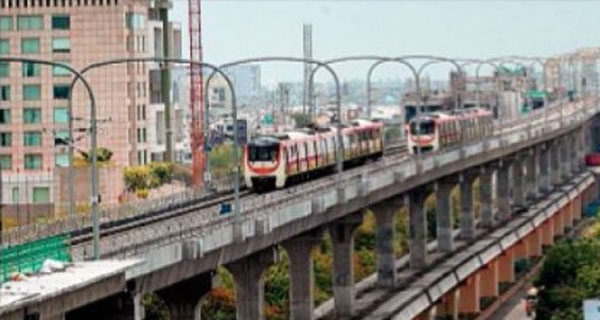 Maazi Metro will run at maximum speed of 80 km/hr on Orange line following green signal from the Railway Board post-clearance from Research Design and Standards Organisation (RDSO). Now, only formal approval from Commissioner of Metro Railway Safety (CMRS) is awaited and he is arriving in city on Thursday for the same.
Intensive trials were conducted by RDSO team for last few months on Orange line of Nagpur Metro running from Khapri to Sitabuldi Inter-change. The most important oscillation trials were held to test safety parameters of rolling stock and that of tracks and way side instruments. During test runs, Metro rake of three cars was packed with 4,000 sand bags, equal to 970 passengers' weight, carrying 63 tonnes and running at a speed of 80 km/hr.
The DAMC-A first bogie, TC first bogie and DAMC-B first bogie were affixed with bracketing along with sensors to measures speed and oscillation. The readings from the trials were mapped and measures against the set standards and same were found okay with international norms designed for safety of passengers. The sensors were affixed on several points of the bogies to sequence how it behaves while running at maximum permissible speed, how much they oscillates, means swings or does it deviate to much from the determined standards were measures.
Similarly, the tests also were held to measures the ridership index, facilities to travellers, functioning of emergency brakes and everything functioned as per the book giving thumbs up to Nagpur Metro from RDSO. The RDSO presented its detailed report to Railway Board that has given green signal for running Metro services at full speed. Post formal approval from CMRS, Maazi Metro will in true sense become a part of mass rapid transport system providing a safe and reliable public network to Nagpurians.
The distance from Khapri to Sitabuldi Inter-change would be negotiated in matters of minutes with running at 80 km/hr, though average speed could be little on lower side owing to almost 60 degree arc at Jail Road turning and later near Ajni Railway Station. Still the 13 km distance would be negotiated within ten minutes following clearance to run at 80 km/hr. Travelling in Metro running at 80 km/hr is surely going to be exciting journey for Nagpurians.
CMRS Garg, team in city today
Commissioner of Metro Railway Safety (CMRS) Janak Kumar Garg, along with his team, would be on two-day visit to city from November 14 onwards. CMRS and team will ride on Orange line of Nagpur Metro and test its efficacy at 80 km/hr speed. During the ride — on Khapri to Sitabuldi Inter-change — the CMRS team will take a final look at the installations, rolling stock and test for themselves the efficacy of ridership when Metro coaches run at maximum permissible speed.