Rahul Gandhi is our PM candidate for 2019 says Congress M.P. Rajeev Gowda in Nagpur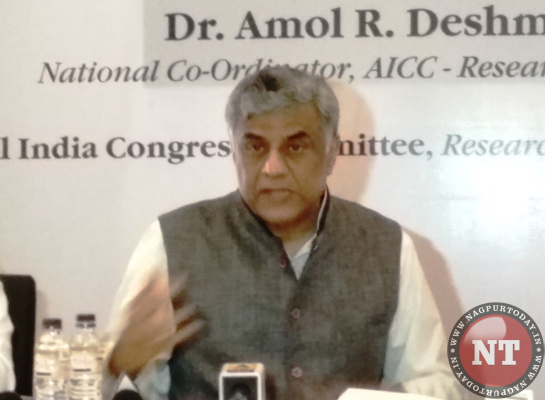 Nagpur: On the heels of Congress electoral victories in Rajasthan, and on the anvil of Karnataka state elections, Rajeev Gowda, Chairman AICC, Research and Development wing was in Nagpur to meet the local intelligentsia and press.
"We will come back with a resounding majority and form the government again in Karnataka" opined Gowda, who belongs to the southern state himself.
"Indians at large are seeing through Modi's 'jumlas' and are already repenting the mistake they made 4 years ago believing in all BJP's promises" said the Congress leader.
He said with a touch of humour that he thought he was educated and well versed in English/ Hindi but the BJP had taught him a new word. That word is 'Jumla' and it can defined as the art of bluffing to win elections.
"Modi and company have been harping on the 'Gujarat model' but just before the elections in that state our Research showed that only a handful industrialists had flourished during the BJP long rule. People at the bottom of the pyramid have been left out of any progress or development."
Rajeev Gowda pointed out that for ten continuous years, through UPA 1 and UPA 2 Manmohan Singh had held the country in a 7.6% GDP growth which has suffered in 4 years of Modi and Jaitley regime.
"They took two disastrous decisions one after the other that has set the nation back economically and industrially, first demonetization and second faulty implementation of GST without adequate preparation."
Replying to queries of whether cases of corruption and bank fraud were coming out due to these measures, (as claimed by BJP) Gowda scotched any connection between the two.
He said there was just one measure of India's regress – the very fact that allocations to MNREGA have had to go up shows that unemployment and poverty have gone up.
He accused the BJP of playing the communal card repeatedly to vitiate the atmosphere and attract votes. "We will never play this card and divide people." He averred.
When asked if under Rahul Gandhi's leadership Congress too was going in for 'soft Hindutva' and making temple visits, Gowda said that the visits to famous age old temples and a Dargah before beginning election campaigning has been a tradition with the Congress in Karnataka.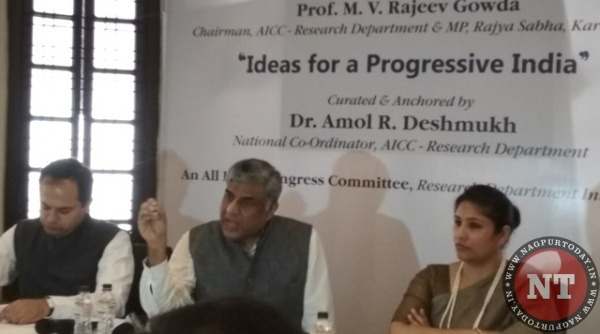 "We always begin campaigning from the area of Eastern Karntaka, which happens to be my area also" he pointed out.
A new and rejuvenated Congress under the leadership of Rahul Gandhi was ready to lead the country again he concluded.
He also confirmed that Rahul Gandhi would be the Congress party's PM candidate in the coming elections.
"There are no two opinions about this".
The meet was organized by Congress leader of Nagpur Dr. Amol Deshmukh and his wife Dr. Sucheka Deshmukh. Amol heads the Congress R&D division locally.